[Written by Stephen Wright]
DeVon Bean, the Bermuda director of athletics, believes strong foundations were laid by the island's talented crop of young athletes at the Carifta Games.
Bean said the 20-strong team exceeded expectations at the region's most prestigious athletics meet by winning three medals in Kingston, Jamaica, over the Easter weekend.
Caitlyn Bobb claimed bronze in the under-20 400 metres, while the women's 4×400 teams seized two medals, silver in the under-17 and bronze in the under-20 races.
The under-17 team included Madisyn Bobb, S'Nya Cumbermatch, Jaeda Grant and Elise Dickinson; Sanaa Rae Morris, Keturah Buford-Trott, Shayla Cann, and Caitlyn Bobb formed the under-20 line-up.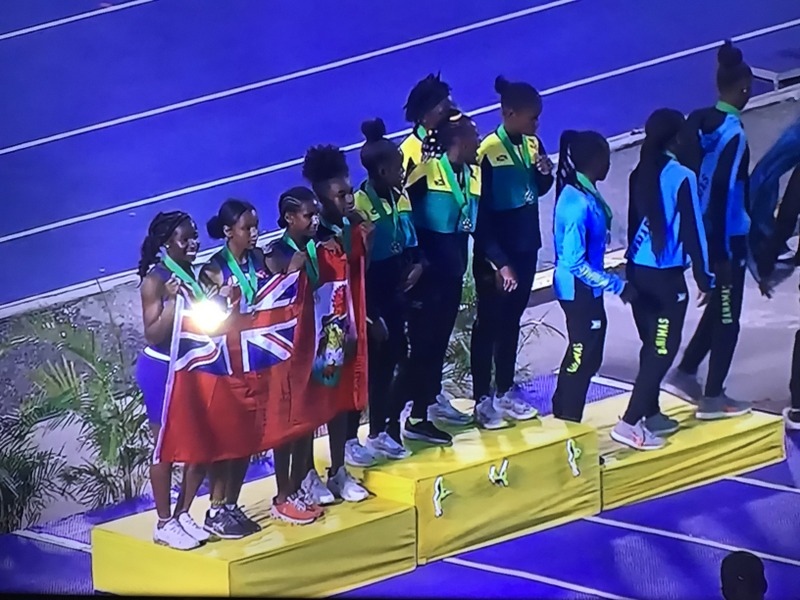 The Games were the first since held in Georgetown, Cayman Islands, in 2019. It was due to take place in Bermuda in 2020 and then in 2021 but suffered back-to-back cancellations because of the Covid-19 pandemic.
"This team super exceeded the coaches' expectations for the simple fact it was the first Carifta for three years," Bean told Bernews.
"We sent quite a young team. The majority of the under-17 age group have at least one year left in the under-17 age group. Some guys have two or three more years in that age group.
"We weren't expecting too much. We were realistic about what we could achieve.
"It was a bit like entering the unknown. Some members of the under-17 team have had overseas competition, but there's nothing like the Carifta competition.
Video of the U17 4×400 relay:
"We didn't have any athlete in the sprint under-17 finals other than S'Nya, so for those four girls to achieve what they did [in the 4x400] was outstanding."
With several of Bermuda's squad missing two years of Carifta competition because of the pandemic, Bean said he was relieved the older members experienced the Games for a final time.
"In the under-20 age group, everybody except Sancho Smith has aged out," Bean added. "This was their final time competing at Carifta."
"I certainly think we're getting the ball rolling again. Our athletes are getting comfortable competing at a high level again."
Video of the U20 4×400 relay:
Bean believes Bermudian athletics is gathering momentum following the recent USATF Bermuda Games, an international meet where Dage Minors stole the show by finishing third in the 1,500.
"It's almost like an avalanche effect, and it becomes innate behaviour," Bean said.
"All it takes is one athlete or team in your sport to start having success. If you surround yourself with successful people, it rubs off.
"Our young athletes are looking up at the likes of Jah-Nhai Perinchief and Dage Minors, sons of the soil, who came up through the school and club system. They now believe they can achieve what those guys are achieving."

Read More About