The City of Hamilton will host a number of events as part of 'Spring Into The City' from Monday, May 2nd to Saturday, May 7th.
A spokesperson said, "The City of Hamilton is inviting members of the public to join us for our latest City event activation Spring Into The City.
"To celebrate the arrival of the spring season, the City has organized a week of fun-filled outdoor lunchtime activities and giveaways starting on Monday May 2nd and concluding on Saturday May 7th that will be sure to put a smile on your face and a spring in your step!"
The City's Senior Events & Marketing Coordinator Mrs. Tamara Smith said, "We are inviting the community to join us as we celebrate 'all things spring' with a week-long lineup of individually themed days!
"Liven up your lunchbreak with a free yoga class on the City Hall lawn, free mini massages and live music in the park! Drop an inspirational quote or uplifting story on our gratitude wall or spin our Flower Power Wheel to win a free bouquet! We've teamed up with some of the City's favourite vendors such as Mix + Roll, Leslie's Deserts, Ashley's Lemonade and OM Juicery to bring you free treats and sweets all week!"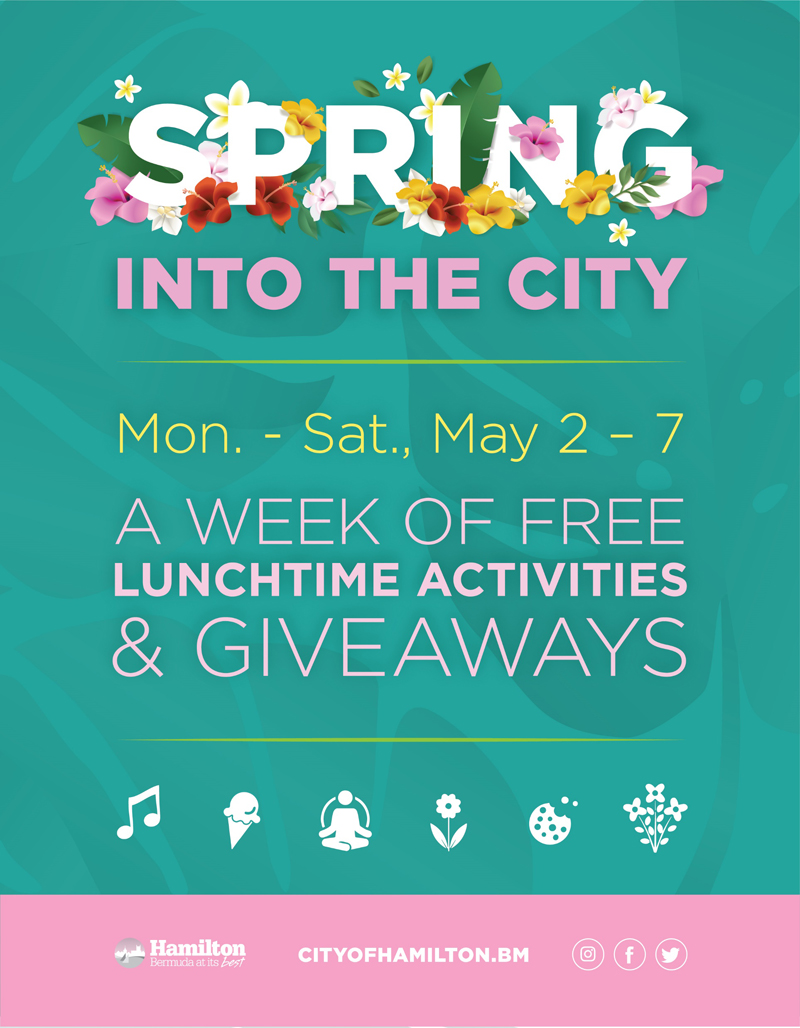 "Join us for Mix & Roll Monday, Tuned-in Tuesday, Well-Being Wednesday, Thoughtful Thursday, Flower Friday and Spring into the City Saturday. Details below:
Mix + Roll Monday
May 2 at Mix + Roll, Front Street
12pm – 2pm
"What better way to get into the spirit of spring than with an ice-cold treat? From 12pm – 2pm at mobile vendor Mix + Roll enjoy a free ice cream taco…on the City! All you need to do is show up and enjoy.
Tuned-in Tuesday
May 3 on City Hall Steps & Front Lawn
12pm – 2pm
"Stop by with your lunch and enjoy a free Ashley's Lemonade and good vibes while taking in live performances by local band Silver City.
Well-being Wednesday
May 4 on City Hall Steps & Front Lawn
12:30pm – 2:30pm
"Does your health regime need a little kickstart? Come and enjoy free OM Juicery fresh cold-pressed juices, a yoga class by Shamana Circle and chair massages by Siam Spa. Remind yourself of how good it feels to take time for your health and yourself.
Thoughtful Thursday
May 5 on Nellie's Walk, City Hall
10am – 4pm
"Most of us are familiar with the concept of 'paying it forward' – where one selfless deed has a ripple effect on others, touching endless lives. On May 5, the City will install a giant Gratitude Wall where people can reflect and write down whatever moves them – whether it be inspirational words or a kind message for others. There will also be free 'pay it forward' cookie giveaways with each cookie branded with an inspirational message as well as a tip on how to 'pay it forward' to others.
Flower Friday
May 6 on City Hall Steps
12pm – 2pm
"What says 'spring is here' more than hundreds of flowers? From 12pm until 2pm come spin the Flower Power Wheel for the chance to win a free bouquet just in time for Mother's Day! Then snap a selfie in front of our stunning flower wall backdrop.
Spring into the City Saturday
May 7 at Victoria Park
12pm – 3pm
"Come join us in Victoria Park for our Spring into the City grand finale. Local band Aimee & Davy will keep the energy flowing as they play under the park's iconic bandstand [which will be adorned with locally sourced flowers courtesy of the Garden Club of Bermuda] while guests can enjoy delicious, free, Instagram-worthy desserts from popular food concession Leslie's Desserts, courtesy of the City of Hamilton."
Read More About
Category: All, Entertainment, News