Bermuda's future athletes had fun learning the basics of the sport at the Run Jump Throw event at the Flora Duffy Stadium on Saturday, receiving assistance from a number of top coaches and athletes.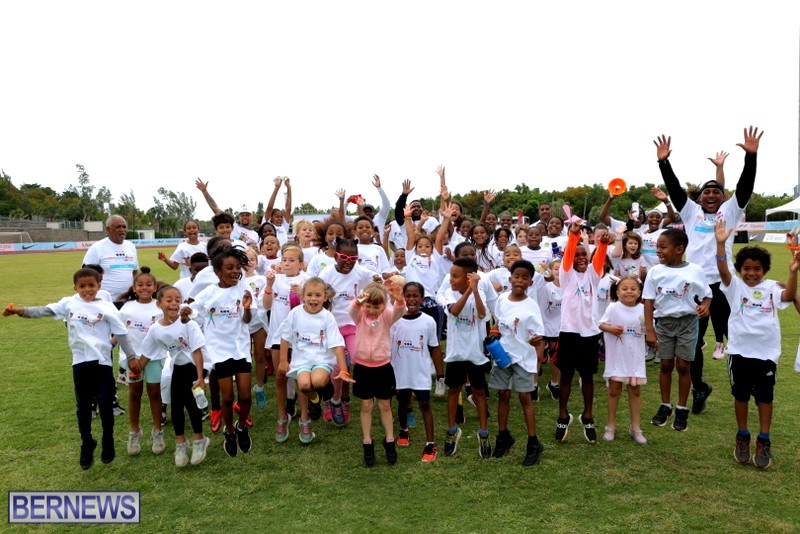 The free clinic — which took place before the inaugural USATF Bermuda Games – introduced boys and girls aged 6 to 12 to jumping hurdles, throwing cricket balls and running sprint races.
The coaches helping the young people included some of Bermuda's best ever athletes, including four time Olympian Brian Wellman, Devon Bean, Rohaan Simons, Cal Simons, Xavier James, Terry Lynn Paynter, Janine Scott, Jerome Richards, Dennis Trott and USA Olympian Wallace Spearmon
Butterfield was the official sponsor of the USATF Run Jump Throw Bermuda event, and Michael Neff, the managing director of Butterfield in Bermuda, previously said: "We always welcome an opportunity to support our community and our young people.
"Run Jump Throw is a programme aimed at getting all kids in Bermuda, aged 6-12 years, excited about physical activity. It gives them an opportunity to learn new skills, which can be applied in other areas of life, and to do it with their friends.
"Having had a couple of years where participation in events like these has been restricted, people are keen to get involved and we were happy to support."
Read More About