Chubb Bermuda has named two industry veterans to leadership positions; Christine Russell to the role of Head of Bermuda Claims and Claims Counsel, and Jevon Williams as General Counsel.
Each will be based in Hamilton, Bermuda and will report to Judy Gonsalves, Division President, Chubb Bermuda. In her new role, Ms. Russell will assume full management responsibility for Chubb Bermuda's Claims Division, including Excess Liability, Financial Lines, Property, and Political Risk. In his new role, Mr. Williams will manage all corporate legal activities of Chubb Bermuda and its affiliates in Europe; he will also oversee all legal matters concerning regulatory affairs and underwriting support.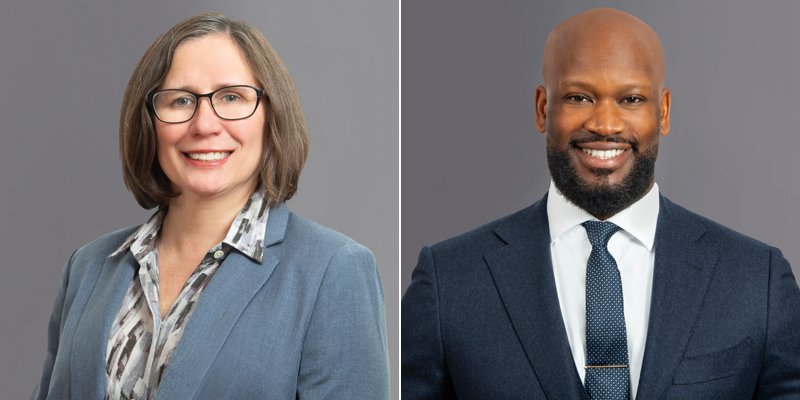 "We are pleased to announce the appointments of Christine Russell and Jevon Williams to their respective new positions at Chubb Bermuda," said Ms. Gonsalves. "Each brings specialized experience to Chubb Bermuda and will be valuable additions to our leadership team."
Christine Russell
The company said, "Ms. Russell previously served as Senior Vice President and Head of Reinsurance for Chubb's Brandywine Group of Insurance and Reinsurance Companies in Philadelphia, PA—a position she held for nine years. Prior to joining Chubb, she was a partner at a Philadelphia-based law firm, White and Williams LLP.
"Ms. Russell earned a Bachelor of Arts degree from Ursinus College [Collegeville, PA] and her Juris Doctor from Widener University Delaware Law School [Wilmington, DE]. Her bar admissions include Pennsylvania, New Jersey, U.S. District Court for the Eastern District of Pennsylvania, U.S. District Court for the District of New Jersey, and U.S. Court of Appeals for the Eighth Circuit.
Jevon Williams
"Prior to joining Chubb, Mr. Williams served as Assistant General Counsel for AIG's Bermuda-based operations. Earlier in his career, he held leadership positions at XL Bermuda Ltd., ASW Law, and Olympia Capital.
"Mr. Williams is a member of the Association of Bermuda Insurers and Reinsurers [ABIR] Policy Committee [Legal and Regulatory] and the ABIR Cyber Working Group and serves as Chair of the Coalition for the Protection of Children in Pembroke, Bermuda.
"Mr. Williams is a graduate of Bermuda College [Paget, Bermuda], Dalhousie University [Halifax, Nova Scotia, Canada], and the City University London School of Law [London, UK]; and completed a Legal Practice Course at the BPP Law School [London, UK]."

Read More About