Bermuda Environmental Sustainability Taskforce [BEST] and Bermuda College announced that their May Eco Lunch & Learn presentation will be on Thursday [May 5] from 1.00pm to 2.00pm.
A spokesperson said, "Bermuda Environmental Sustainability Taskforce [BEST] and Bermuda College are very pleased to announce their May feature presented by Dr. Mark Guishard, the Director of the Bermuda Weather Service, a section of the Bermuda Airport Authority.
"He is a Chartered Meteorologist, with over 20 years of experience in weather forecasting, disaster management, research meteorology and catastrophe risk science.
"Dr. Guishard will introduce the Bermuda Weather Service, basics about hurricanes & examine how storm activity has evolved in a changing climate. Dr. Guishard holds a PhD in Meteorology from Penn State University, a Masters in Atmospheric Sciences from the University of East Anglia, and has trained at the UK Met Office and the US National Hurricane Center. He is a Fellow of the Royal Meteorological Society.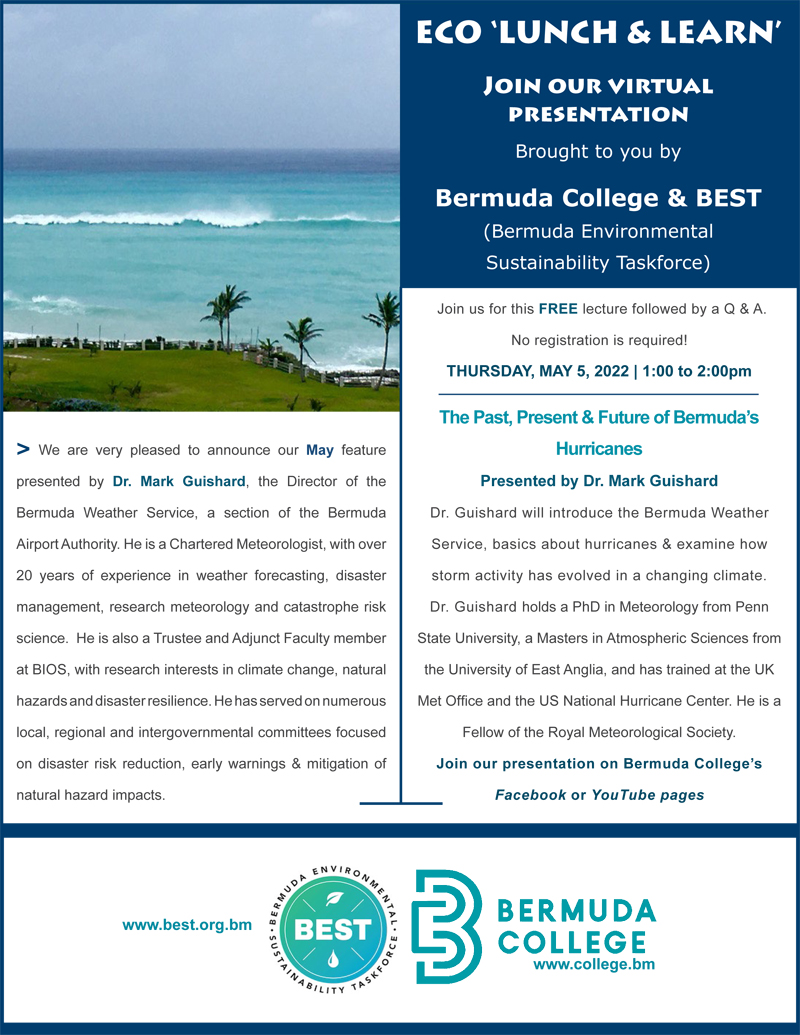 Amy Harvey, the Earth and Environmental Science lecturer at the Bermuda College, explained, 'Bermudian residents are typically well versed in hurricane preparedness but is our small island nation prepared for the threats of Climate Change that will bring more frequent and intense weather events to our shores?
"Have we built resiliency into our community to be able to withstand rising sea levels, increase flooding and higher temperatures. What mitigation measures have or should we take to reduce our vulnerability to increased risk of these natural hazards that we will see more of due to climate change? Expert meteorologist, Dr. Mark Guishard, will explore the extent of these natural disasters identifying their risks and how we can better prepare ourselves as a community against the inevitable disruption that they bring.'
Jennifer Flood, BEST Executive Director, added, 'Weather! Climate change! [and what's the difference between weather & climate?] Increase in intensity of storms! More? or Less? Precipitation? Warmer, more acidic oceans! How will all of these and more affect Bermuda?
"Already, the rise in sea level and more frequent and intense hurricanes are affecting the globe and as a small, isolated group of islands, Bermuda is in a unique position. There is still time to keep climate change from reaching catastrophic runaway changes, but information and appropriate action are key. Dr Guishard will be sharing his meteorlogical research and considerable knowledge with us at the fourth and last Eco Lunch & Learn of the series this season."
A spokesperson said, "Please join us for this free presentation, on Thursday, May 5th, from 1pm to 2pm. No registration is required. Simply join us on the day via Facebook.com/The BermudaCollege or on Bermuda College's YouTube page. The presentation is followed by a lively Q & A. The audience is encouraged to submit their questions via the chat options on both YouTube and Facebook."

Read More About
Category: All, Environment