The City of Hamilton provided information on their trash collection schedule during the Bermuda Day Weekend, and also reminded parade spectators to ensure that after the event they take all their trash away with them, noted that barbeques are not permitted on City sidewalks and warned that any "spray paint that is used will be removed prior to the parade and, if possible, persons responsible will be prosecuted for vandalism."
Trash Collection
A spokesperson said, "The City of Hamilton wishes to advise City businesses and residents that the garbage collection will be scheduled on the following dates during the Bermuda Day Weekend:
Thursday, May 26th – Last collection will take place at 5:00pm
Monday, May 30th – Normal garbage collection will resume.
"All garbage should be placed on the sidewalks or designated garbage areas by the time indicated in the Refuse Collection Schedule.
"Please do not place garbage out for collection unless a collection is scheduled for that day.
Spectator Etiquette
"The City of Hamilton would like to remind parade spectators to ensure that after the event on Friday, they take all of their belongings and their trash away with them.
"The City asks those members of the public who have used tape to mark spots (an action which is not endorsed by the City), to please remove it after the parade. Any spray paint that is used will be removed prior to the parade and, if possible, persons responsible will be prosecuted for vandalism.
"The City of Hamilton also reminds the public that hot coals or any type of barbeque or similar implement for cooking food are not permitted on City sidewalks."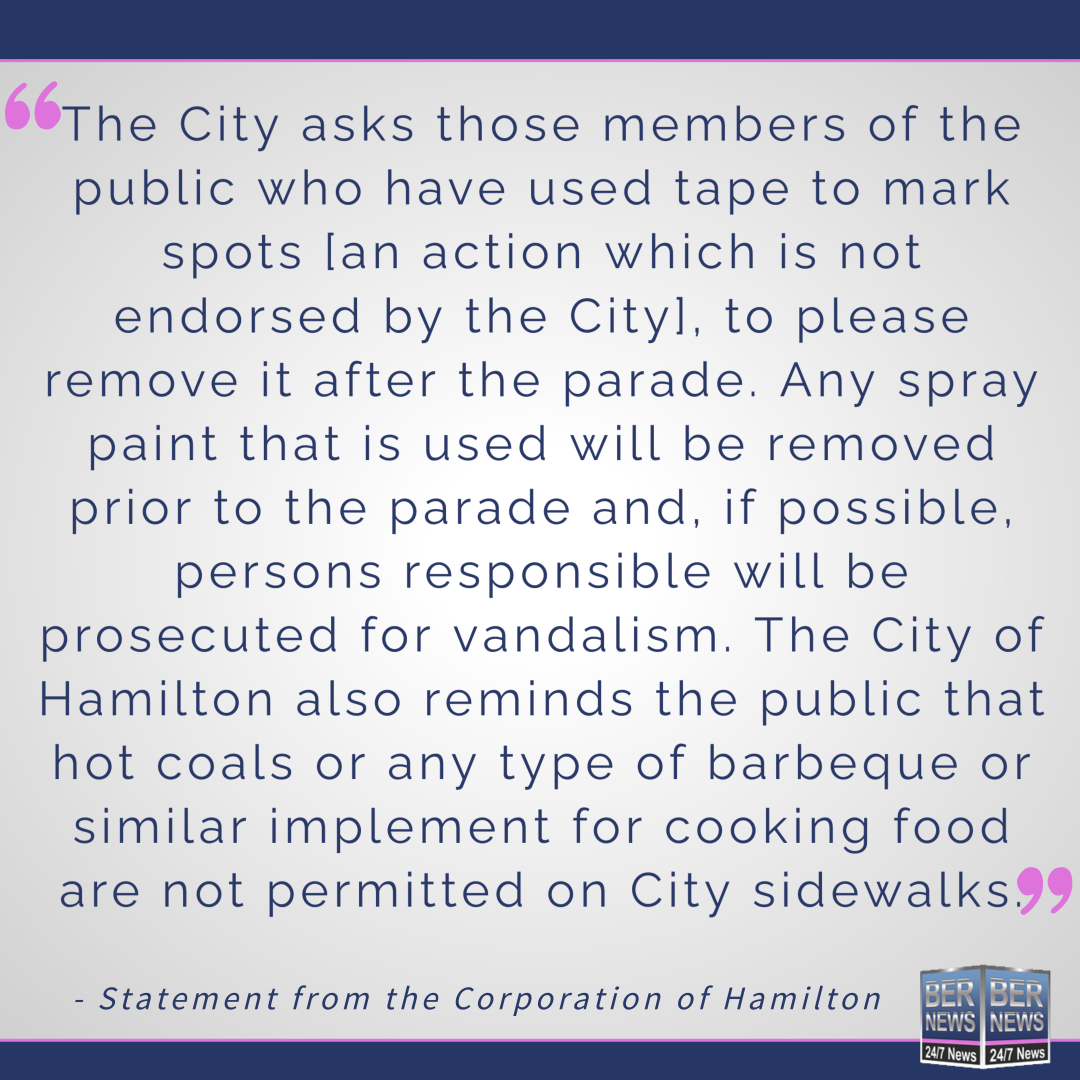 City CEO Dwayne Caines said, "With the congestion expected on the sidewalks along the parade route, one must realize that the cooking of food, especially with an open flame, is a hazard. At the end of the event, those coals are still hot and if not disposed of correctly, can have serious consequences. We're simply but firmly insisting that people leave the barbeques at home.
"A clean City is a safe City. We're delighted to welcome people to Hamilton to enjoy the parade but we also want to make sure they exercise caution and act responsibly for the benefit of everyone."

For extensive coverage of Bermuda Day spanning over a decade, visit our website BDADay.com, the island's most comprehensive resource on the Bermuda Day holiday.

Read More About
Category: All, Entertainment, News