[Updated] Calling it a "bad deal for Bermuda," Opposition Leader Cole Simons said that by "conceding 15 years of tax concessions – Bermuda will forfeit revenue estimated at over $128 million dollars just for the hotel."
Mr Simons was speaking about the 'Fairmont Southampton Hotel Act 2022′, which grants a number of customs duty and tax concessions, an extract is below, and the Bill can be read in full here.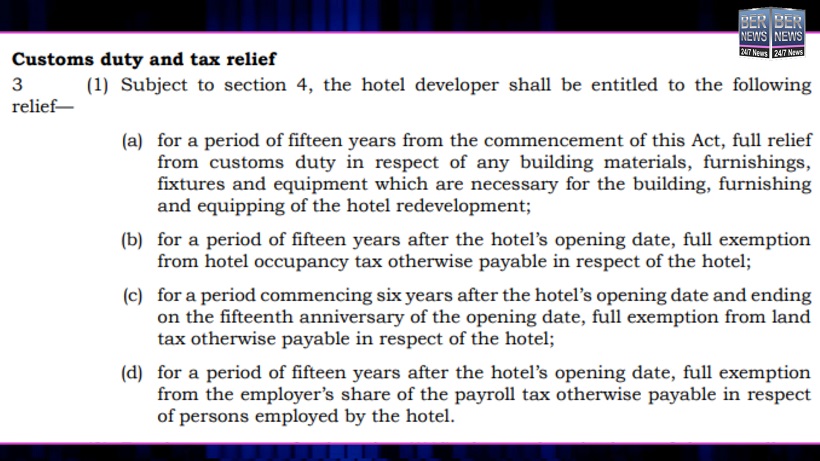 Mr. Simons said, "The OBA supports the redevelopment of Fairmont Southampton to revive Bermuda's tourism economy. We are hopeful that it will support our business sector with conference facilities and provide more job opportunities for Bermudians.
"The question is – why has Premier Burt negotiated such a bad deal for Bermuda? Today, when Bermuda's public finances are on its knees and the county needs every dollar of public revenue. So why during these desperate times is Premier Burt's Government handing out mammoth concessions that Bermuda can ill afford?
"Let's be very clear, as previously stated by the Shadow Minister of Tourism, the One Bermuda Alliance recognizes the need, and the support requirements, for a development of this scale. As a consequence, we would maximize the concession period to ten years, instead of fifteen- especially because of these challenging economic times.
"By conceding 15 years of tax concessions – Bermuda will forfeit revenue estimated at over $128 million dollars just for the hotel. That money could have been used to pave roads, care for the elderly, or pay down the island's astronomical debt.
"Stuck with the new 15-year precedent, future Governments now will find it harder to negotiate a fair deal for Bermuda, and existing tourism operators will no longer have a level playing field.
"Alarmingly, the Burt Government has asked for virtually nothing in return and his details are sorely lacking. For example:
Premier Burt says 70% of the hotel's staff will be Bermudian – but which jobs and how many- and what about outsourcing?
The Government has asked for a management training programme for Bermudians, but what about training and development programs for non-managers?
Will the tax concessions extend to resort villas and resort suites? If developers of the villas get tax breaks, what about Bermudians? What about the smaller hotels, AirBNBs, developers and construction companies?
"The Burt Government tells us this is a good deal for Bermuda, but how can we tell? There was no public consultation, there are no numbers, no objective, and no independent view.
"The OBA has asked for details from the Government on multiple occasions this year, with no response:
On February 8th, the OBA asked for details, and Premier Burt promised that his Government would 'provide details when the Act is tabled' – which he failed to do.
On March 2nd, the OBA demanded to know why the public was kept in the dark on the taxpayer's guarantee.
And on March 20th, the OBA asked again and the Premier promised a deal was 'imminent.'
"We all recall that the dramatic departure of the former Finance Minister, Curtis Dickinson, who thought this deal was so dangerous for Bermuda that he walked away from his position."
Mr Simons added "we are all well-versed with this Government's failed track record on making deals" noting that almost $1 million went to "the not-so-Savvy deal," and $3.6 million was spent in "no-bid" contract for the Travel Authorization Form "which is killing tourism,' with the OBA leader calling the contract "friend & family", noting it went a company the Premier's advisor is involved with.
"The One Bermuda Alliance demands transparency, integrity, and fiscal responsibility from this Government. Instead, Premier Burt has wasted the people's money on a bonanza for the developers – his inspiration resulted in his desperation," Mr Simons said. "Bermudians demand a better deal for Bermuda."
Update 9.49pm: In response, Minister of Tourism Vance Campbell said, "The only desperation on display is that of the Opposition, whose lack of due diligence has cost taxpayers over $200 million from the failed Morgan's Point project. The Opposition Leader knows that a closed hotel provides zero dollars in tax revenue and that the reopening of this hotel will increase revenue to the Government and provide jobs for the country while supporting increased airlift and visitors to Bermuda.
"The Opposition also must have short memories as they passed a special act for St. Regis that extended tax relief to more than was allowed by law – because they understood what was necessary to get hotels built in Bermuda.
"The Opposition wants to have it both ways, but they can't. They either support the reopening of the hotel or they don't. If they support the reopening, they will support this bill tomorrow. If they do not support this bill tomorrow, the hundreds of Bermudians who will be employed by the hotel, the multiple businesses that support the hotel operations, and the taxi drivers who will transport the guests that will stay at the hotel will always remember that the OBA didn't support the bill in Parliament necessary to re-open Bermuda's largest hotel.
"The passage of this bill tomorrow will be another step towards the reopening of this hotel which will provide 650 jobs during construction and 800 jobs when the hotel reopens and I look forward to leading tomorrow's debate on behalf of the Government."
Read More About