On Monday, June 20, Bermuda will observe National Heroes Day. and the Government said "as the community is aware, this is the designated day when Bermuda pays tribute to those eight individuals who have made significant contributions to our society."
Bermuda's National Heroes are:
Mary Prince
Gladys Misick Morrell
Sir John W. Swan, KBE, JP
Dr. Pauulu R.N.O.B. Kamarakafego [Dr. Roosevelt Brown]
Dr. E.F. Gordon
Dame Lois Browne-Evans, DBE, JP, LLB
Sir Henry James "Jack" Tucker; and
Sir Edward Richards, KT, CBE
Minister of Youth, Culture and Sport Dr. Ernest Peets said, "We are immensely proud to recognise our National Heroes, who each have played a meaningful role in contributing to our society. Their legacies have formed a cultural mosaic that will forever be a part of our national story. We must never forget the significant struggles, successes and paths of each of our National Heroes."
The spokesperson said, "The public will recall that recently Government announced a change to the method of selecting National Heroes. The process will now be open to the public once every decade, with the next nomination period beginning in 2025.
"On National Heroes Day, CITV will air last year's Bermuda's Heroes Tribute Concert event in which local artists paid special recognition to these eight pioneering Bermudians."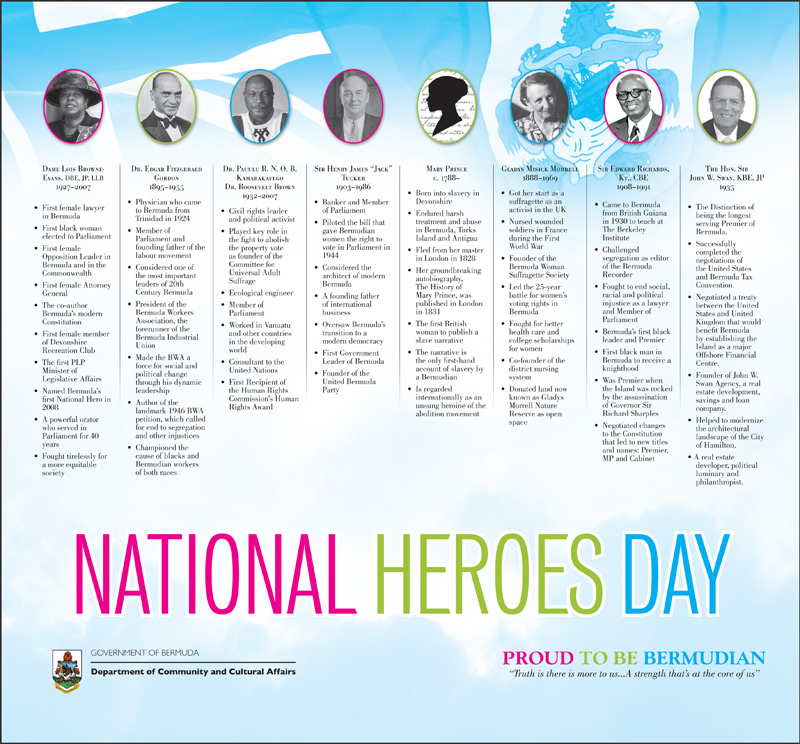 Read More About