Nine local charities have received a much-needed financial boost thanks to the Clarien Foundation and its ongoing commitment to "enhancing and strengthening the Bermuda community."
The charities represent various areas including health, education, families, entrepreneurship and human rights.
Michael DeCouto, Clarien's EVP, Chief Digital & Marketing Officer said: "It is with great pleasure that we announce the names of our Clarien Foundation donation recipients for 2022. Each year, we select a number of deserving charities to support based on the current and future needs of the Bermuda community.
"Now especially, as the Island continues its pandemic recovery journey, we recognise that non-profits need our help as they continue to provide essential services to support Bermuda and its people in getting back on our feet."
"The 2022 Clarien Foundation donation recipients are:
Bermuda Cancer and Health
Bermuda Centre for Creative Learning
Family Centre
Ignite Bermuda
OutBermuda
The Reading Clinic
Tomorrow's Voices
WindReach Bermuda
Young Men's Social Club
Michael DeCouto, Clarien's EVP, Chief Digital and Marketing Officer; Tiffany Paynter, OutBermuda; Stacy Hill, Tomorrow's Voices; Lynne Woolridge, Bermuda Cancer and Health; Laura Lyons, Ignite Bermuda; Tammalita Joseph, WindReach; Nancy Smith, Bermuda Centre for Creative Learning; Sandy De Silva, Family Centre; Kendra-Lee Pearman, The Reading Clinic; Troy Lewis, Young Men's Social Club and Vishram Sawant, Clarien's EVP, Chief Financial Officer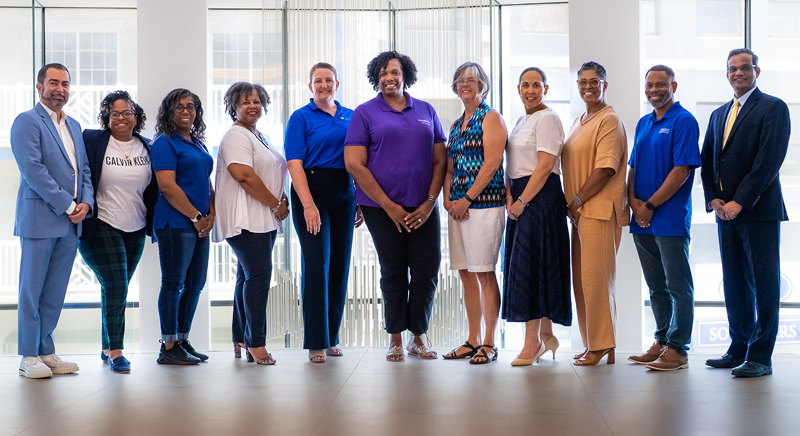 Earlier this year, Clarien supported a number of other charitable organisations including National Museum of Bermuda, AGE Concern, Action on Alzheimer's & Dementia and PALS. The Bank also sponsored WeSpeak, a day long professional conference aimed at helping business women to hone and enhance their speaking skills; additionally, they donated $1,520 to the Ukraine Fund, half of which was collected through a staff denim day in March and matched by Clarien."
Tammalita Joseph, Fund Development Manager at Windreach, said: "We are delighted that Clarien has chosen to support our Educational & Therapeutic Programmes. This donation will help us to continue to empower approximately 200 individuals living with special needs who visit our facilities weekly. At WindReach, we work with people of all ages and abilities and our participants include those with physical and intellectual disabilities, as well as those living with mental health challenges and dementia. Clarien's support of Bermuda's Third Sector has impacted our community in many ways and we are grateful for their continued generosity."
Lynne Woolridge, Chief Executive of the Bermuda Cancer and Health Centre, echoed that the charity was "very grateful" for the Clarien Foundation's grant, which would allow the Centre to continue to offer its important programmes to those battling cancer in the community. "Annually, over 300 people in Bermuda will be diagnosed with cancer, and more than 80 will die of the disease," Ms Woolridge explained. "Research suggests that up to 50% of both cancer cases and deaths are preventable with knowledge that we have today, thus prevention offers the most cost-effective long-term strategy for the control of cancer. Bermuda Cancer and Health's education programmes aim to raise awareness, reduce exposure to cancer risk factors and ensure that people are equipped with the information and support needed to adopt healthy lifestyles and in turn reduce their potential cancer risk."
Dr Sandy De Silva, Executive Director of the Family Centre, said: "We are most grateful for Clarien Foundation's consistent support of Family Centre's annual Cup Match Tag Day event. The funding from this event supports the running of our counselling services, community outreach programmes, and advocacy initiatives offered free of charge to families in Bermuda. Clarien's partnership with Family Centre strengthens our ability to facilitate healing, hope, and connection for families and create a healthier Bermuda for our children. Unfortunately, Bermuda like the rest of the world, is experiencing the same increase in the number of children, youth and families that are being mentally, emotionally, and socially challenged because of the pandemic in addition to other existing challenges. Thank you Clarien Foundation for helping to make it possible to provide families with the tools they need to build resilience, wellness and empowerment."
According to Stacy Hill, Funding & Development Officer at autism charity Tomorrow's Voices, the charity is pleased to be awarded funding from the Clarien Foundation. "These funds will go towards supporting our therapeutic programmes and assisting individuals living with Autism and other Developmental Disabilities. We thank the Clarien Foundation for being a part of our mission," she said.
Chair of OUTBermuda, Adrian Hartnett-Beasley said OUTBermuda was "grateful for Clarien's continued financial support of our charity and the work we are doing here on the Island. This grant will be used specifically for programming that supports the mental health and well-being of our LGBTQI+ community."
Nancy Smith, Fundraising Coordinator for the Bermuda Centre for Creative Learning stated, "The Bermuda Centre for Creative Learning is very grateful to the Clarien Foundation for their generous donation to our Foundation's bursary fund. It will go to support a child with language-based learning differences who could not otherwise attend BCCL and receive specialised support."
Troy Lewis of Young Men's Social Club said the organisation was also honored to be a recipient of Clarien's community sponsorship. "As a charitable organisation, we rely primarily on sponsorship and fundraising to fund our programmes and events. This support enables us to reduce the cost of enrollment and more importantly gives us the flexibility to allow some youth to enroll at a reduced or no cost, based on their financial situation. The funds received from Clarien will be primarily used towards yearly equipment purchases, including balls, goal nets and training uniforms, as well as our annual Back to School Family Picnic. Clarien sponsorship helps to ensure that we can equip our young people with the skills needed to utilise their time and energy in a positive and productive way. Most importantly, they learn to associate with and respect other people and make new and long-lasting friends in a fun and safe environment. YMSC Redevelopment Program cannot thank Clarien enough for their continued support."
For more information about The Clarien Foundation, visit www.clarienbank.com.
Read More About