The Ex-Artillerymen's Association has made a donation to Vision Bermuda and Friends of Hospice, with each receiving $900.
A spokesperson said, "The Entertainment Committee of the Ex-Artillerymen's Association held their annual Mother's Day Brunch on Sunday, May 8th. Every year, since the inception of this event, donations have been made to two charities and each year different charities are chosen as recipients of the proceeds.
"Unfortunately, we were not able to have the brunch for the past few years due to Covid, but were excited to be able to hold it this year. Vision Bermuda and Friends of Hospice were selected to receive the proceeds for this year. The presentation to the charities took place on Thursday June 9th at The Ex-Artillerymen's Association and each charity received $900.
Entertainment Committee Members: Erskine Brangman [Entertainment Chairman], Summer Robinson, Arnette Matthews, Andrea Dill and Alicia Simmons [Entertainment Vice Chair]. Front second from left: Theresa McMordie, Vision Bermuda and third from left Jennifer Mahoney, Friends of Hospice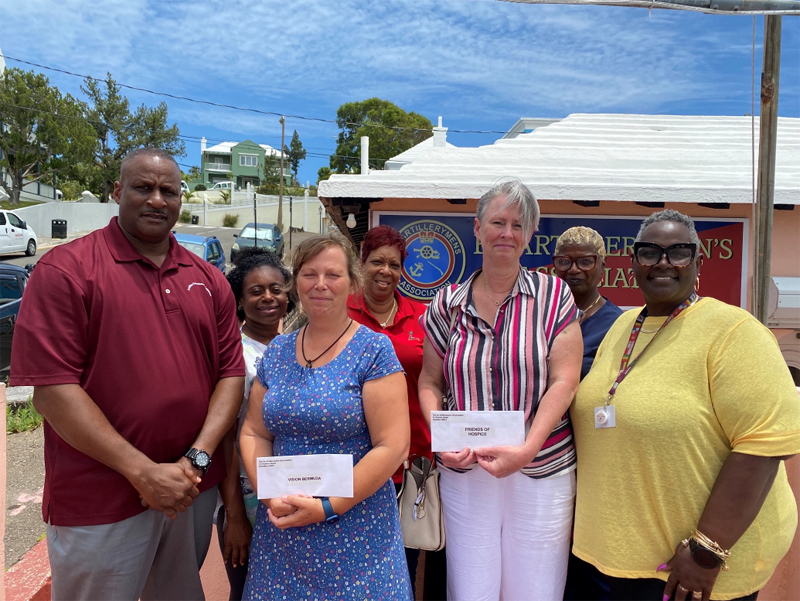 "Attending the presentation for the charities were Theresa McMordie, Vision Rehabilitation Professional from Vision Bermuda and Jennifer Mahoney, Executive Director of Friends of Hospice.
"Vision Bermuda is a registered charity who helps people with no and low vision to maintain independence, learn new skills, participate in social and physical activities to reduce loneliness and isolation. The following is a quote from Ms. McMordie:
"A massive thank you for your wonderful support in raising this very welcome $900. Every cent is used wisely to create services and promote independence for our clients with visual impairments. We wouldn't be able to provide this essential service in Bermuda without such generous donations.
"Friends of Hospice's sole mandate to support Bermuda's only hospice Agape House by fundraising, providing therapeutic and emotional support programmes, and volunteer services."
Mrs. Mahoney said, "Every donation that we receive is extremely appreciated and special in its own right. The Entertainment Committee of the Ex-Artillerymen's Association elected to donate funds as a result of a luncheon held to mark a very special occasion, Mother's Day, which seemed entirely appropriate as that day recognizes the love and care demonstrated by persons of significance in our lives.
"It is that same compassion, love, and care that we strive to provide to all those patients and their loved ones in a hospice setting. We feel honored to have been selected."
Read More About