St. George's University [SGU] is hosting an information and recruitment session where they will share information about their programs, community and scholarships to the public.
A spokesperson said, "This is a free session. Persons will be able to ask questions to a current student from Bermuda who attends the University and a graduate, Dr Kyjuan Brown. The event will be held tonight June 8th 2022 at The Reefs at 5: 30 p.m Bermuda time. Attendees are asked to inform the front desk for guidance on the session's room. Persons can register here."
Dentrecia Blanchette, the SGU Associate Director of Admissions, Caribbean confirms that "Dr. Brown is the embodiment of a global leader who is serving his community with excellence. He is the owner of Northshore Medical and Aesthetics Center and of Dr Brown's Laboratory, which is a full Bermudian owned and doctor-formulated product line. We are proud of how he has been able to continue to serve Bermudians. Jade Richardson is a current student at our University from Bermuda and we are happy that she will join us in the session to share information about her firsthand experience as a student."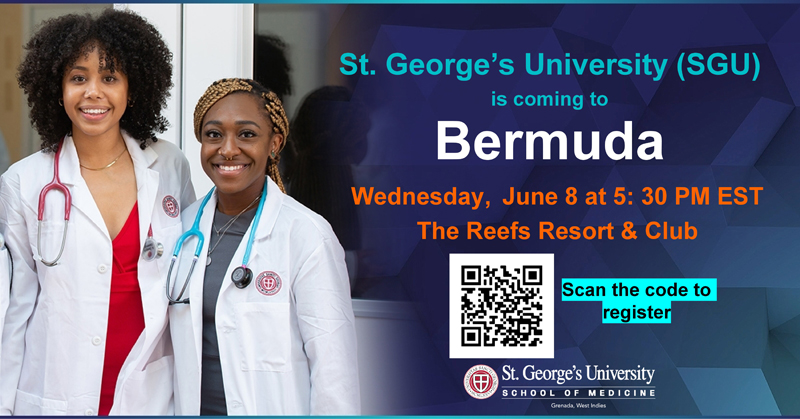 "The University has a long standing relationship with the island through their partnership with The Bermuda College. They are happy of their current students from Bermuda at the University and alumni who have become global leaders in their respective fields. They are interested in giving students the option of joining their community should it be the right fit for their career goals and strengthen the cadre of leaders that come from our Caribbean region.
Ms Blanchette stresses the importance of this initiative "There's also a physician shortage that we are meeting by educating physicians to be global leaders and serve anywhere in the world."
"During the session, SGU will explore:
Being the number 1 medical school in the world that provides more new doctors to the US healthcare system. SGU graduates secured 1,080 US residencies in 2021 and counting.
Our statistics, match rates and inspiring stories. 95% of eligible US 2020 graduates who applied for a postgraduate position obtained one at the time of graduation.
How we contribute over 19,000 physicians to the global physician workforce, with students, graduates, and faculty from more than 140 countries. They have practiced in every state in the United States, as well as in over 50 countries.
Stories of excellence from the Caribbean region. Over 970 of SGU's physicians are Caribbean nationals.
Ms Blanchette confirms why SGU, "While we are known for our medical school, we have four schools and have supported students for over 45 years. The University has more than 22,000 graduates include physicians, veterinarians, scientists, and public health and business professionals across the world. We offer medical and veterinary medical degrees in the Schools of Medicine and Veterinary Medicine, and independent and dual graduate degrees in the sciences, public health, and business. Undergraduate degree programs are also available through its School of Arts and Sciences, and students may build on their education by pursuing a degree in the School of Graduate Studies."

Read More About
Category: All