Bermuda's Zeiko Lewis scored for his Sacramento Republic team as they played to a 4-2 win over his former club Charleston Battery.
The club's match report said, "Republic FC grabbed three points in league play for the first time since June 25 Saturday, putting together an efficient performance on the attack against Charleston Battery. Sacramento shined in another full squad effort, rising to take control of a challenging assignment after a demanding evening Wednesday in the U.S. Open Cup.
"Luther Archimede led the way with three shots and a goal and assist apiece, while Emil Cuello, Matt LaGrassa, and Zeiko Lewis all netted their first scores in league play this season.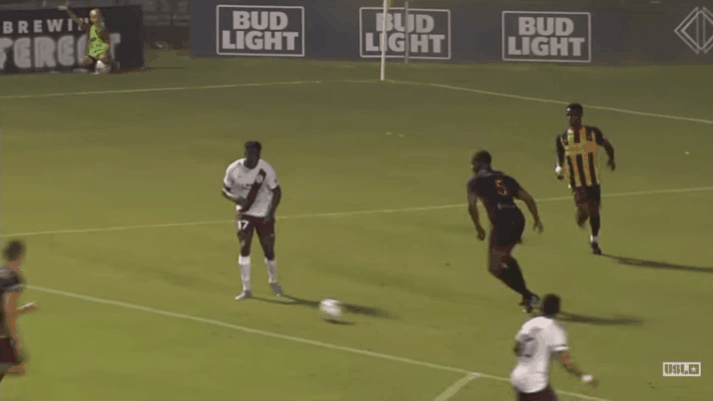 "Sacramento got the marathon going just 90 seconds in. In his first match against his former club, Zeiko Lewis carried forward and put pressure on Charleston's backline. After his initial attempt was saved, the ball found the feet of Emil Cuello and Rafa Jauregui, who each put up attempts saved by Charleston's goalkeeper.
"The hosts opened the scoring just before the 5 minute mark, punching through a rebound that bounced out into space. The deficit for Sacramento wouldn't last long however, as the club equalized on a 16th minute set piece. Emil Cuello got his head on great service from a Nick Ross corner kick, and his attempt deflected off a Charleston defender and into the net.
"Just before the first-half hydration break, Luther Archimede found his third goal of the season to put Sacramento ahead. After running onto a ball played over the top by Emil Cuello, his high-powered blast from the right was no match for Charleston's Hugo Fauroux in goal. The score was his first in open play this season, with his last two each coming from the penalty spot.
"Augustine Williams brought Battery back level just before the break. A great save from Carlos Saldaña bounced out into space for the forward to put it in the net. However, the tie wouldn't stay for long, as Sacramento punched back when Luther Archimede found Zeiko Lewis at the top of the box, who put one through against his former club for his second score of the season.
"Changes for Sacramento at the hour mark brought in some defensive reinforcements. With the exception of a trio of chances just after the 75 minute mark, Charleston was kept quiet to the tune of just one attempt on target in the second half."

Read More About