Bermuda's Under 14 football team defeated Barbados 2 – 0 in their final match in the Group Stage of the 2022 Caribbean Football Union [CFU] U14 Challenge Series.
The Caribbean Football Union report said, "Bermuda dashed Barbados' hopes of qualifying to the 2022 CFU Boys' U1-4 Challenge Series Tier II finals on Thursday, defeating them 2-0 in the final Group 1 match.
"Playing at Estadio Panamerícano in San Cristobal, Dominican Republic, Barbados appeared to be the better teams on attacking, with countless counters and shot attempts in the box. The Bermuda defense line, however, showed up with some impressive saves that would deny Barbados any goals.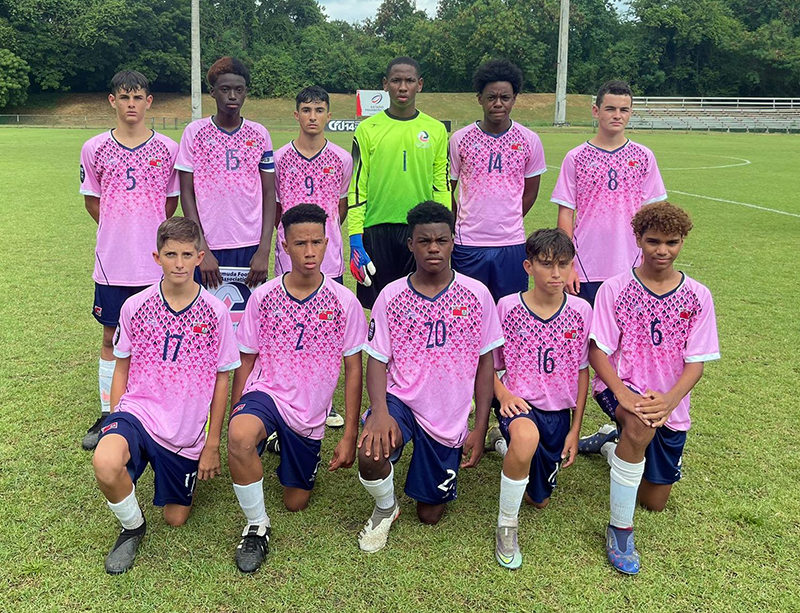 "The Bermudians, from minute 21, dominated the match knowing it was an important one. Bermuda's goalkeeper Jai Simmons exhibited great composure in the box to stop the Tridents' shots from reaching their objective.
"On counterattacks for Bermuda, Joseph Carolo and Tiago Correia had contributing runs and plays at goal, but with the likes of Barbados' Malachi Haniff and his impressive defending skills, the score remained level at the half.
"Jacob Gallop from Barbados was awarded a yellow card in the 49th minute of play for creating a foul. Not long after, in the 52nd minute, Barbados conceded their first goal as a result of an own goal by Jonathan McFarlane in the six-yard box.
"The second goal in the Bermuda column came in the 61st minute of play from Xenai Williams-Savery, shattering the hopes of the young Barbadians. Added to that, Giovanni Goodridge picked up a yellow card in extra time.
"Bermuda ended the tournament with a fillip, although with six points, they didn't qualify for the semis."
Highlights of the CFU U14 Challenge Series game, where #Bermuda defeated Barbados 2-0 pic.twitter.com/f5xZQTsTgt

— BernewsSports (@BernewsSports) August 19, 2022

Read More About