Registration for the 2022 Dive In Festival is now open, with the event set to take place from September 27 to September 29.
A spokesperson said, "Registration for over 150+ diversity and inclusion events in Bermuda is now open. Mary Ann Sieghart, Adrian Hartnett-Beasley, Latisha Lister-Burgess, Jessica Lewis, and Kristin White are some of the confirmed speakers at this year's festival
"The hybrid format makes the festival accessible to attendees from all over the world, virtually and in person.
"Registration for Dive In, the insurance industry's longstanding festival promoting diversity and inclusion, is open via diveinfestival.com. The festival is taking place from 27 – 29 September. This year's festival will take on a hybrid format, consisting of virtual and physical events in 30+ countries. Bermuda's in-person events will be hosted by AXA XL at O'Hara House.
Sarah Randall – HR Business Partner at Markel, Rachelle Frisby – Partner – Financial Advisory at Deloitte, Megan Greem – Partner at PwC, Deshay Caines – VP Colleauge Engagement at Marsh & Dive in Bermuda Event Steering Committee Chair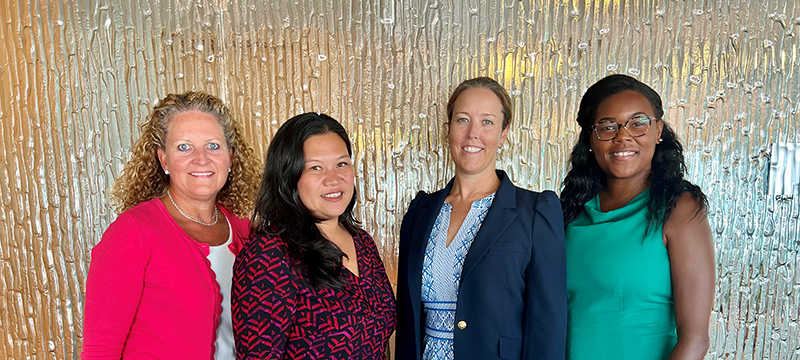 "Dive In has been the insurance industry's most prominent voice for a progressive future for almost a decade, with over 31,000 attendees in 2021 from 103 countries. The festival continues to break new ground, reaching at least 40 countries this year, an increase from 35 in 2021. Thailand is among the countries to host events for the first time, whilst others from across the world return to tackle new challenges.
"Continuing its mission of enabling people to achieve their potential by promoting positive action for diversity in all its form, the focus now, in 2022, is to build braver, psychologically safe work cultures – both on and offline – that truly allows people to feel safe, valued, respected, and free to express themselves. A range of topics will be covered during the Bermuda events:
Tuesday, September 27
1. The Authority Gap
10:00 AM
Event Sponsors: AIG & Chubb
2. Psychological Safety In The Workplace
11:30 AM
Event Sponsors: Aon & Markel & ABIR
3. Deloitte Women in the Boardroom: Report and Tips for Women and Allies to Foster More Room/Opportunities for Women.
2:00 PM
Event Sponsor: Deloitte
Wednesday, September 28
1. The Bermuda Onion: Peeling back the layers of intersectionality in the workforce and learning how to promote safer spaces/cultures
10:30
Event Sponsor: Renaissance
Thursday, September 29
1. Authenticity – Can you bring your true self to work?
2:00 PM
Event Sponsor: PwC
"Full details about events and speakers will be available on the Dive In website."
Deshay Caines, Steering Committee Chair for Bermuda [and VP of Colleague Engagement at Marsh McLennan Bermuda], said, "Dive In continues to break new ground and, in 2022, will have a broader range of events than ever. This year we will be focusing on Building Braver Cultures so that we can all express ourselves authentically in a welcoming workspace created by colleagues and leadership. We are proud to confront the issues that have held back the industry, and wider society, for too long.
"To enable us to respond effectively to the complex issues facing our clients worldwide, we need the fresh and creative perspectives a more diverse talent pool can provide."
The spokesperson said, "Local festival partners include ABIR, CHUBB, AIG, Aon, Markel, Deloitte, PwC, RenaissanceRe, and Conduit Re
"The festival continues to count on the support of its global festival partners AIG, Allied World, Aon, Arch Capital Group, Aviva, AXA XL, AXIS, BMS, Chubb, CNA, DLA Piper, Everest Re, Gallagher, Howden, and DUAL Group, Kennedys, Liberty Mutual Insurance, Lloyd's, Markel, Marsh McLennan, MS Amlin, Munich Re Group, RenaissanceRe, Tokio Marine Kiln, Travelers, and WTW.
"To register for Dive In 2022 events and for more information on previous festivals, visit the Dive In Festival website."
Read More About