The Bermuda Red Cross has extended a "big thank you Bermuda for being so generous," noting that the appeal for Ukraine has received $543,000 to date.
A spokesperson said, "To date the Ukraine Appeal run by Bermuda Red Cross has received $543,000. These funds were donated to Bermuda Red Cross by many organization like, Aon, whose employees contributed funds with the company matching.
"The schools have contributed, young kids have given funds in lieu of birthday gifts, churches have supported this appeal and trust and foundations and individuals have been extremely generous with their support. A group of ladies who put together a shopping fair in the Botanical Gardens raised $56,125 dollars through purchase of car boots, raffles and general donations as well as matching from corporates.
"The funds were sent to British Red Cross in 3 tranches – $95,000, $205,000 and the last $343,000. An additional $13,300 was received after the last funds were sent.
"We will be closing the appeal on 31 August, 2022. If anyone still has some funds they have been holding for the Ukraine appeal, please either transfer to our Butterfield account 20 006 060 663859 200 or mail to Bermuda Red Cross, P.O. Box HM 772, Hamilton HM CX.
"A big thank you Bermuda for being so generous in supporting our appeal and others that were getting funds as well."
Ann Spencer-Arscott, Executive Director, Bermuda Red Cross and Joe Rego, President & CEO of Aon [Bermuda] Ltd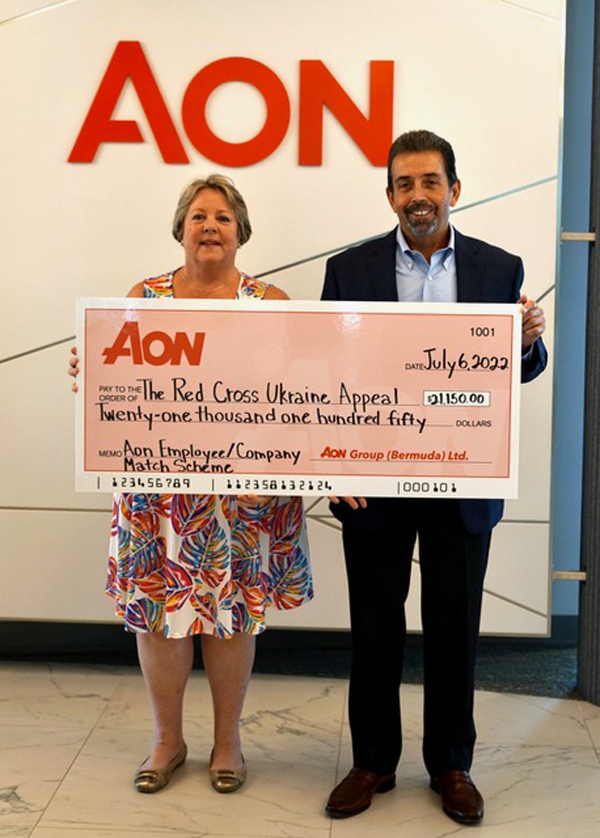 Read More About