Live performances at outdoor locations, expansion of the City of Hamilton busking programme, and the Bermuda Swizzle and Seafood Festivals are among some of the aspects of the Great Sound Entertainment Series.
A spokesperson said, "Bermuda Tourism Authority, in partnership with the Government of Bermuda, has announced its support of the Great Sound Entertainment Series, an initiative promoting a diverse line-up of local entertainment in unexpected venues around the island.
"The initiative comes after more than two years of pandemic-related disruptions to Bermuda's entertainers, party planners, and promotors. As the pace of tourism's recovery enjoys an uptick, the island's growing visitor numbers have created a demand for entertainment and memorable Bermudian experiences.
"The Bermuda Tourism Authority leveraged data from Destination Analysts' entertainment findings which identified the type of entertainment experiences today's traveler was looking for. Home-grown entertainment, which was low-key, serendipitous, discoverable, and authentically local emerged as factors most likely to enhance their on-island experience.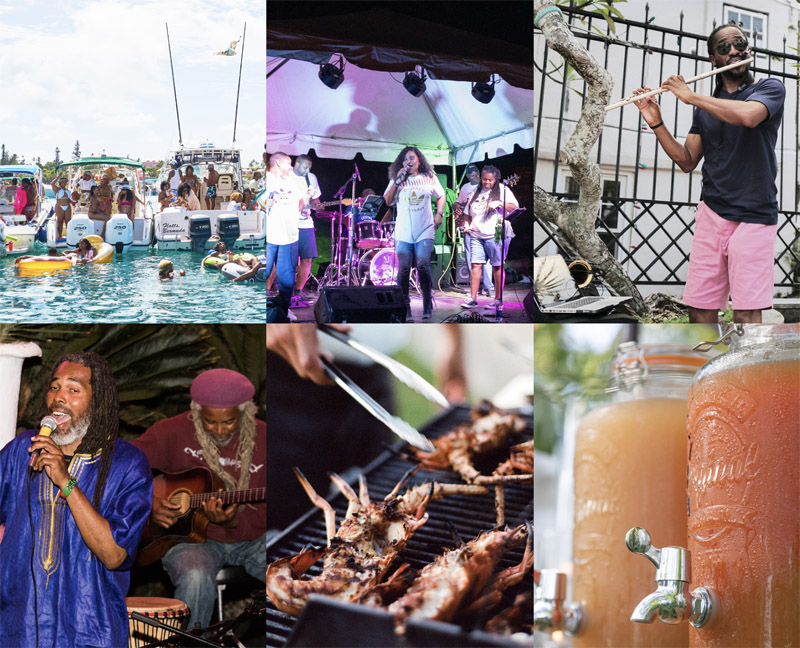 "From weekly live performances at outdoor locations, or local bars and restaurants, and on-the-water experiences, to the expansion of the City of Hamilton busking programme, the Great Sound Entertainment Series will deliver an array of musical experiences for both visitors and locals. Additionally, the series comprises Bermuda Swizzle and Seafood Festivals which fuse Bermuda's food and cocktail culture with live performances."
"We're thrilled to be able to announce the launch of Bermuda's Great Sound Entertainment Series. Not only will it enliven the end-of-summer and early-fall calendar for our visitors, but it allows us to celebrate the tremendous talent and energy of our local creators," said Tracy Berkeley, interim chief executive officer, Bermuda Tourism Authority.
"We salute the performers and promotors who continue to share Bermuda's culture through their artistry at venues around the island; we hope that this series injects a shot of excitement and opportunity into the business and entertainment sectors of Bermuda."
The BTA said, "The 2022 Great Sound Entertainment Series includes:
1. Raft-up Sundays
August 14, 21, 28
Limited Visitor Tickets $25
"In a nod to Bermuda's unique on-the-water party tradition, the Great Sound Entertainment Series will feature top local DJs on a floating stage with local charter operators and boat owners invited to create a festive atmosphere on the water. Visitors are invited to reserve a spot on a Raft-up Sundays charter to experience Bermuda's raft-up party culture for $25. Visitors can visit GotoBermuda online to book.
2. Made in Bermuda VIP Series
Barr's Bay Park – August 20
Fort Hamilton – August 27
Barr's Bay Park – September 3
8 am – Midnight
General Admission $75, VIP $125 [Group discounts available] Book at Gpass.com
"Pink Sand Entertainment revives its Made in Bermuda series, elevating it for the 2022 VIP Edition. The showcase will feature different artists and venues each week. The series kicks off on August 20th with a show at Barr's Bay Park and will feature the renowned Wall Street Band, a 13-piece band, plus performances by the Tino Martinez Trio, Rusty G, and the H& H Gombeys.
3. Saturday Live at Woody's
Woody's Bar & Restaurant
August 27 – October 1
Free Admission
"The Saturday afternoon programme will add a weekly shot of live musical entertainment to the menu at Woody's, the west-end home of the famed Bermuda fish sandwich. Each Saturday from August to October visitors will join local patrons at the popular local venue to catch the scheduled local performer.
4. Busking in the City
City of Hamilton
August – September
Gratuities Optional
"To elevate the atmosphere in the city, and create unexpected moments for visitors, buskers will be incentivized with a weekly stipend to provide plein-air performances at highly visible locations within the City of Hamilton. The initiative is done in partnership with the Corporation of Hamilton. Street performers, musicians, and entertainers are invited to apply for the weekly performance slots. Email experiences@bermudatourism.com
5. St. George's Seafood Festival
September 17
Ordnance Island, St. George's
12 pm – 7 pm
Free Admission
"Known for its history and maritime connections, Ordnance Island will be transformed into a seafood lover's paradise for the 1st annual St. George's Seafood Festival. Visitors and locals will experience a sampling of Bermuda's celebrated culinary creations in a thoughtfully curated bar, dining, and lounge experience. Families will welcome the Kid Zone to entertain and engage the youngest guests. While everyone will enjoy live entertainment on the Ordnance stage.
6. Swizzle Festival
September 25
Barr's Bay Park, Pembroke
1 pm – 6 pm
Free Admission
"This September, a collective of Swizzle makers will be assembled for a Bermuda Rum Swizzle Festival, at Barr's Bay Park, a picturesque harbour-side setting on the edge of the city. Guests are invited to taste the various interpretations of the classic Bermuda Rum Swizzle. Local performers will help create a memorable end-of-summer experience."

Read More About
Category: All, Entertainment, News