Kidney Care Bermuda [KCB] has announced the opening of a new practice, created by merging two existing renal care providers – Bermuda Home Dialysis Services and Bermuda Renal Partners – "to provide comprehensive and holistic services to patients with kidney diseases."
A spokesperson said, "The concept came from the desire to create a dynamic health care team and clinic with a mission to provide much-needed preventative services in renal care, which developed from a need to assist patients with kidney disease early on in their diagnoses.
Dr. Wendy Outerbridge and Dr. Danielle Farrington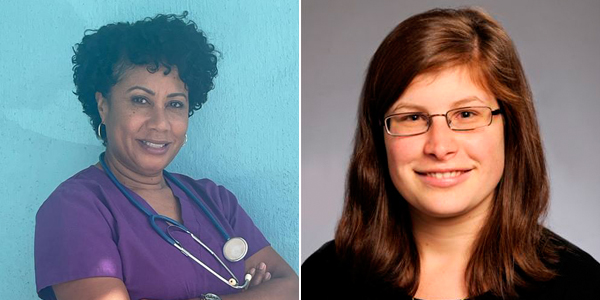 "Together with Dr. Wendy Outerbridge, Medical Director of KCB, the practice also welcomes Dr. Danielle Farrington to the newly formed group. Both physicians are certified Bermudian nephrologists. Dr. Outerbridge, formally of Bermuda Renal Partners, has over 20 years of experience in diagnosing and treating patients with hypertension and kidney diseases.
"Dr. Farrington recently completed her Nephrology training and her Master's in Health Sciences in the United States. In addition, Ms. Jessica Therrien, RN, will join KCB to facilitate preventative nursing care and patient education.
"Early referral to nephrology is very important to prevent patients from experiencing worsening of kidney function and early onset of dialysis. We hope to capture patients in the early stages of chronic kidney disease [CKD] and provide them with necessary treatments and ongoing education to slow down kidney disease progression."
"Screening for kidney disease is essential since most patients don't experience noticeable symptoms in the early stages of chronic kidney disease. KCB will offer free screening to under insured or noninsured patients starting in September. Patients are also encouraged to follow up with their general physicians [GPs] for regular kidney function tests, and we encourage GPs to practice early referrals for patients with CKD.
"This means patients not only receive appropriate nephrology care but are exposed to information and education in kidney care."
The spokesperson also said: "the focus of preventative care and education, as always, is to slow down the progression of kidney disease and to start discussing kidney replacement therapies such as living donor transplant early. Receiving kidneys from living donors usually offers better outcomes after transplantation and patients don't have to spend years waiting for a kidney. Starting the discussion regarding living donors early is very important so patients can ideally be transplanted before starting dialysis."
"Discussion around renal replacement options and optimal education guarantees patients a smooth transition into dialysis for those in the later stages of kidney disease. There is still large number of patients ending up on dialysis without any prior information or opportunity to select their preferred dialysis therapy."
"Our goal is to partner with patients and provide a high standard of medical care combined with essential information and tools for patients to live healthier longer lives."
"The practice is located on Victoria Street, Hamilton, across from St. Paul's Church and is now accepting referrals. For more information contact 295 8999 or referrals@kidneycare.bm."

Read More About