[Updated] Following overseas media reports claiming that passengers on a diverted flight "were not allowed to leave the airport due to Bermuda's Covid-19 requirements," local officials said that "Covid-19 regulations did not in any way prevent American Airlines from taking steps to better accommodate its passengers today."
The Government said airlines must organize hotel rooms for its passengers in such situations, the team at the airport "stood ready to administer supervised antigen tests for all passengers," however "at no time did American Airlines communicate a desire to have its passengers landed to transfer them to a hotel," with the Government pointing out that they "note American's crew were provided accommodation at a local hotel by the airline."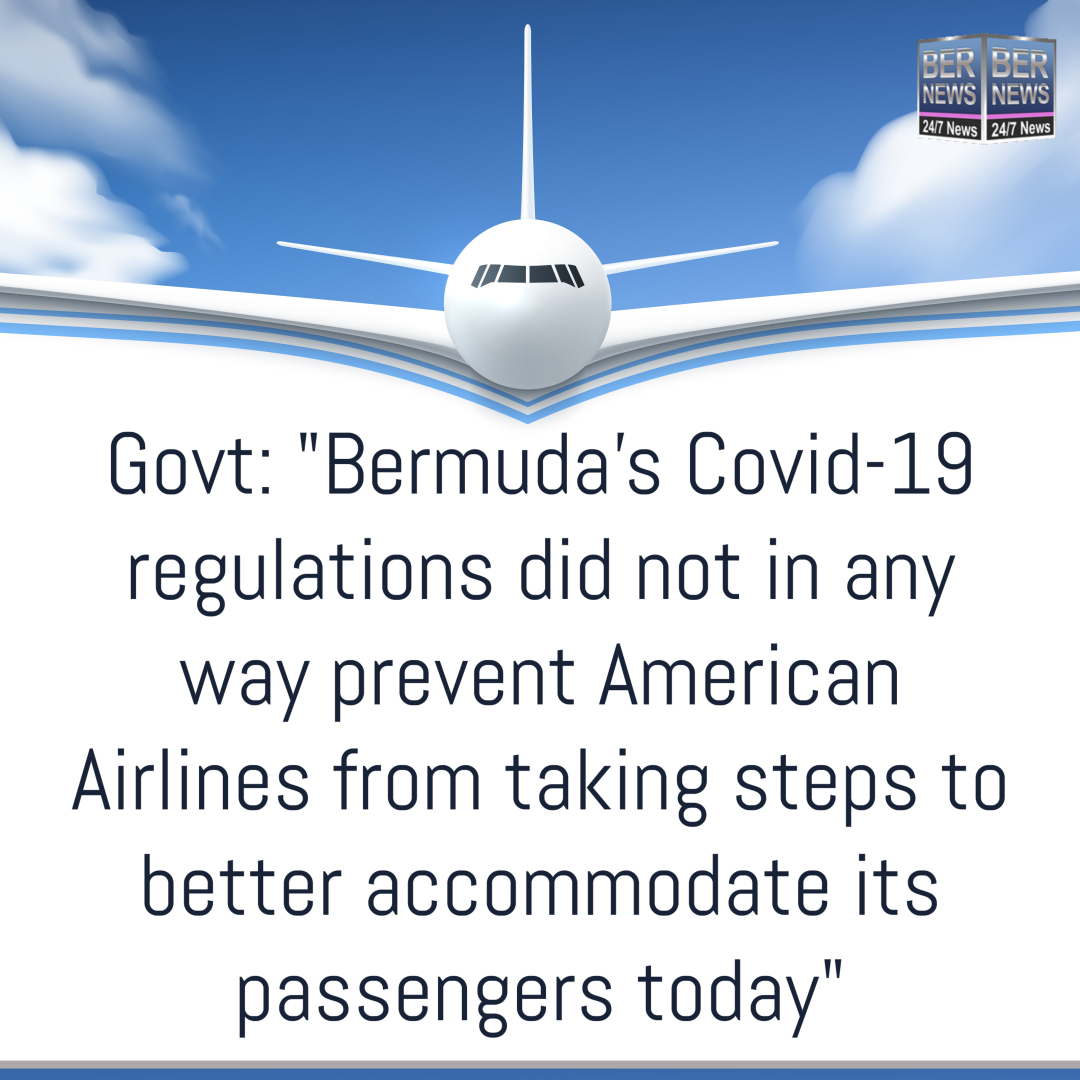 Overseas Media Reports
The British press reported, "Passengers on a bank holiday flight to from Miami to London have revealed how they spent 20 hours on the floor of an airport in Bermuda after a possible mechanical issue. forced a diversion. Those who struggled to rest in the most stressful of conditions have said they were "abandoned in the middle of the Atlantic".
"Since the incident, American Airlines has apologised for flight AA38 changing course. Around three hours after taking off from Miami International Airport on Monday (August 29), the airline said there was "a possible mechanical issue", forcing the plane to land instead on the British island territory in the North Atlantic.
"The passengers were not allowed to leave the airport due to Bermuda's Covid-19 requirements, and say it took almost 10 hours before anyone brought them food – while there were just eight toilets available and no showers."
Bermuda Government Response
A Government spokesperson said, "Regarding the American Airlines flight that diverted to Bermuda early this morning, the Ministry of Health can advise the following.
"In this instance, the decision for arranging accommodations is not one to be made by the Ministry of Health. The airline must organize hotel rooms for its passengers in such situations. At no time did American Airlines communicate a desire to have its passengers landed to transfer them to a hotel, even if only for the day.
"The Port Health team at the Ministry of Health stood ready to administer supervised antigen tests for all passengers – as we have done for passengers on previous diverted flights. However, the airline did not make that decision.
"The Ministry of Health's compliance team also stood by in case a decision was made to allow the passengers to leave the building and stretch their legs in a designated area. Again, no decision was made. We note American's crew were provided accommodation at a local hotel by the airline.
"Bermuda's Covid-19 regulations did not in any way prevent American Airlines from taking steps to better accommodate its passengers today," the Ministry added.
American Airlines
American Airlines said in a statement: "American Airlines flight 38, from Miami (MIA) to London (LHR), diverted to Bermuda (BDA) this morning after a possible mechanical issue. We never want to disrupt our customers' travel plans, and we apologise for the trouble this has caused."
According to online flight trackers, the flight is scheduled to leave this evening.
Update | Skyport Statement
A Skyport spokesperson said, "At 12:40 am this morning, American Airlines flight 38en route from Miami, Florida to London Heathrow, arrived at The LF Wade International Airport with 317 persons on board having diverted to the island due to a mechanical issue.
"The aircraft, a Boeing 777-300, landed safely and without incident. All passengers and crew deplaned the aircraft at 1:10 am and were housed in the international departures lounge of the new terminal as American Airlines officials advised that they were unable to find a sufficient number of available hotel rooms to accommodate all persons from the flight.
"The airline made light refreshments available for passengers before having meal options catered by late morning. The airport duty-free and retail shops, the bar and restaurant facility, and the Primeclass VIP Lounge with shower facilities, were all open and available to passengers during the day.
"American Airlines is sending a relief flight to pick up the passengers. The flight is expected to depart for London Heathrow at approximately 8 pm this evening."
Read More About