HSBC Bermuda recently hosted the graduation of the first cohort of the Women's Resource Centre's Transformational Support Services Program.
A spokesperson said, "The program consists of a comprehensive Education and Life Skills Training program, delivered by community partners offering a collaboration of services.
"Its aim is to provide up to 30 women from our community with opportunities to receive the education, transformative life skills training and support that enables them to move forward with strength and confidence and subsequently be able to provide their families with a more stable and productive life.
"The process includes needs-assessments, empowerment education, job training, employability skills development, transitioning and on-going support.
"Two of the graduates from the programme became entrepreneurs and started their own businesses, two started their G.E.D.s with the Adult Education School, while four also gained employment. Graduates were encouraged that their futures were bright, as they had endured much, and have also given much. Addressing the graduates, guest speaker, Ms. Paulette Rubain and Minister Tinee Furbert, Bermuda Government Minister of Social Development and Seniors both gave an inspiring message that resonated with all in attendance.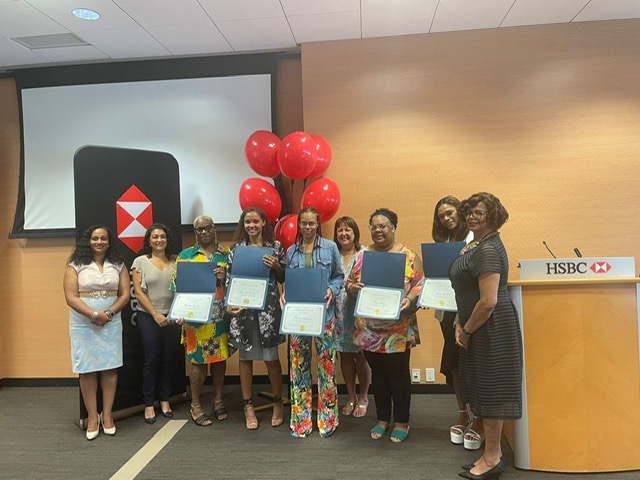 Elaine Butterfield, WRC Consultant shared, "Three years ago HSBC committed to fully funding this programme to help empower women in our community. The programme in its first year, was offered to ten women and was intended to finish in 2020, however, due to the pandemic was put on hold.
"In spite of the delays, the seven final graduates were commended for persevering through what we can agree was one of the world's toughest times. It was an emotional event as the graduates received certificates, gifts and words of encouragement in celebration of their achievements and this milestone."
Clesia Pachai, HSBC Community Investment Manager, shared, "This programme offers women a unique opportunity to network, collaborate, learn from one another and grow together. We hope the new relationships they have fostered and memories they have made over the past year will be moments they will be able to look back on and be proud of.
"There were many organisations and individuals who helped bring this programme to fruition, all of which continue to have a vested and genuine interest in seeing each woman be successful. On behalf of HSBC, I would like to thank those people and organisations for their time, services and efforts in delivering this opportunity to our community."
The program will be offered to a second cohort of women in the community beginning in September 2022, while simultaneously running at the Transformational Living Centre [TLC] for Families as an integral part of the transformative process of occupants of the TLC.

Read More About