Walkers has introduced its new Walkers Abroad policy, as well as family leave benefits that allow for 18 weeks of parental leave at full basic pay as well as an additional eight weeks of unpaid leave for eligible employees, including in Bermuda.
A spokesperson said, "Under the umbrella of our SmartWorking@Walkers approach, and following the introduction of new Agile working arrangements in May 2021, Walkers recently announced the introduction of its new Walkers Abroad policy. This new policy gives anyone at Walkers whose position would allow them to work remotely, and who has the right to work in another country, the opportunity to do so for up to 10 days without taking annual leave.
"This policy has been established so as to give employees more flexibility with how and where they work. For many, there are occasions when it would be helpful if they could work remotely for a short period from abroad, usually to accommodate family commitments and often in conjunction with a period of annual leave especially following a period of difficult travel during the pandemic."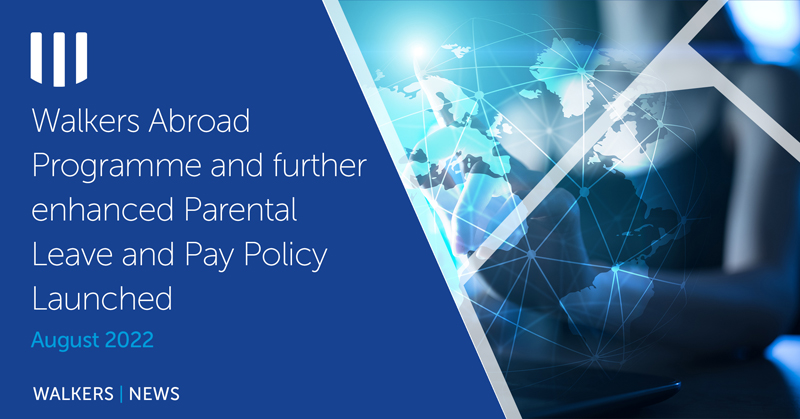 Global Managing Partner, Ingrid Pierce, said, "Being responsive to our clients and colleagues and consistently delivering high standards of service are key to success. We are excited about Walkers Abroad and hope that it will allow for optimum outcomes for both our people and our clients."
The spokesperson said, "In addition, following a thorough review of its parental policies, Walkers has further enhanced its global maternity and parental pay and leave policy as of 1 July 2022.
"The augmented maternity pay benefit, available to the workforce [64% of which are women], exceed local statutory requirements across Walkers' offices in the Americas [Bermuda, BVI and Cayman], Asia and the Middle East [Hong Kong, Dubai and Singapore] as well as in Europe [London, Dublin, Jersey and Guernsey], and responds to the diverse needs of the modern family. In addition, family leave benefits have been significantly enhanced.
"The enhanced benefits support eligible employees following the arrival of a child and provide for 18 weeks' maternity leave at full basic pay as well as eight further weeks of unpaid leave. Permanent employees can avail of this benefit following six months' continuous service with Walkers.
"The scope of these enhanced benefits means that Walkers' family pay and leave benefits are well ahead of the benefits offered by most other firms in their space. The changes also provide further support to families who have adopted children or had children by surrogate."
Chief HR Officer, Claire Townshend, said, "At Walkers, we want to foster our inclusive culture. Research shows us that the majority of women will become pregnant during their working life, with up to 85% returning to work following maternity leave. These enhanced benefits recognise the evolving needs that emerge at different phases of personal and professional lives and enables us to put the best support in place for our talented workforce, so as to ensure that they can achieve their best."
Global D & I Committee member and Cayman based Finance and Corporate Partner, David Collins, said, "We have diverse staff at Walkers and having listened to their views, are attuned to their individual needs. Our enhanced family pay and leave benefits, as well as our SmartWorking@Walkers approach, is a differentiator for current and future talent. This ensures Walkers is a market leader, not only in Cayman, but also across other jurisdictions such as Bermuda, the BVI, Dubai, Hong Kong, Singapore and others."
Read More About