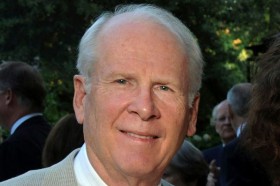 Robert Brockman – an American billionaire accused of allegedly "using a Bermuda-based family charitable trust and other offshore entities to hide assets from the Internal Revenue Service while failing to pay taxes" – has passed away.
A Bloomberg story said, "Robert Brockman, who built a multibillion-dollar fortune as a software entrepreneur and investor before he was indicted in a landmark tax-evasion case, has died. He was 81.
"Brockman, who was suffering from dementia and undergoing home hospice care, died late Friday, said Kathy Keneally, his attorney. He'd been fighting tax-evasion charges since 2020, but his attorneys said his dementia meant he wasn't competent to stand trial.
"A judge ruled in May that Brockman was competent. At a hearing a month later, the judge tentatively set his trial date for Feb. 23, 2023. Brockman appeared in bed via video during that hearing.
"The government wasted time and resources indicting a man who had progressive dementia and was terminally ill," Keneally said.
"In his younger days, Brockman was known as an inexhaustible worker with a passion for physical fitness, fly fishing in Colorado and dove hunting in Argentina. Forbes estimated his net worth to be $4.7 billion.
"A Florida native of modest origins, Brockman was selling computing services to auto dealers on behalf of International Business Machines Corp. when, in 1970, he founded a company that helped revolutionize how the industry operates in North America and Europe.
"Brockman, a self-taught programmer, developed a software system that helped car dealers run virtually every aspect of their operations. He obtained more than a dozen patents, and grew his software company, Reynolds & Reynolds, into a 5,000-person operation worth some $5 billion.
You can read the full story here on Bloomberg.
Read More About