The Bermuda Underwater Exploration Institute [BUEI] announced their second annual 'Climate Cinema' series.
A spokesperson said, "Free screenings of climate related documentaries, aimed at audiences aged 12 and above, will be held every Friday, Saturday, and Sunday, from the 7th to the 30th of October.
"BUEI's 'Climate Cinema' is a showcase of short and feature length environmental films selected to engage the entire community in the climate conversation in the lead-up to this year's Youth Climate Summit. Climate Cinema features a series of short and full-length films that focus on action being undertaken by people of all ages in communities around the globe, in the areas of sustainability, climate justice and conservation. Each was selected to complement the discussions fostered during the Summit and prepare young people, their families, and peers for the topics the Summit covers.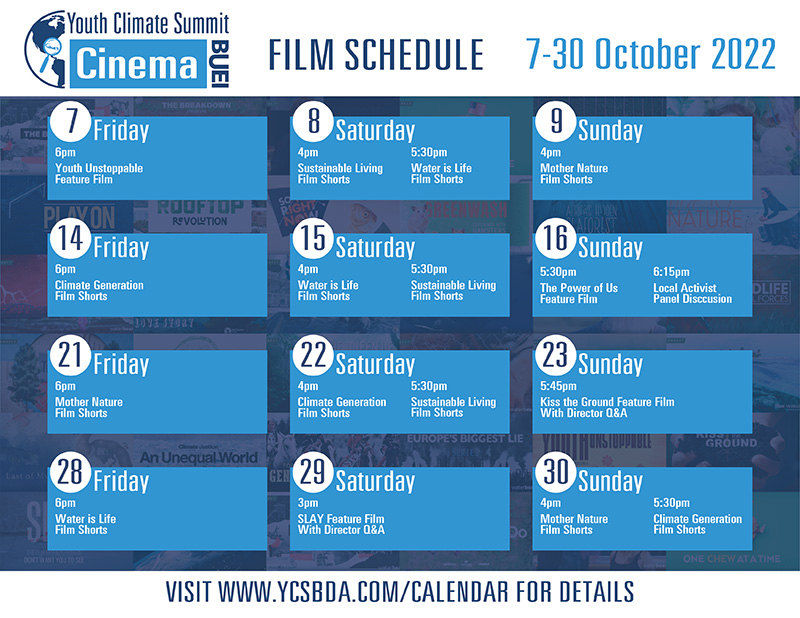 "The selection of short films for the 'Youth Climate Cinema' will be shown in hour-long blocks on rotation throughout the month of October. Each film block consists of five to ten short films focusing on the following topics: Water is Life, Sustainable Living, Mother Nature, and Climate Generation.
"In addition, each weekend, a full-length feature film will be screened, followed by a live Q&A with the filmmaker or an onsite discussion panel. This year's feature films are 'Youth Unstoppable,' 'Kiss the Ground,' 'SLAY' and, 'The Power of Us.'
"Scheduled for 6pm on Friday, October 7th, 'Youth Unstoppable' follows now 26-year-old Slater Jewell-Kempker over the course of 12 years as she films the diverse and evolving movement of youth fighting for the world they want to live in. It is the only feature documentary to cover the rise of the Youth Climate Movement from the youth perspective, with the youth perspective now being the most important voice in the climate debate. Immediately following the film, the filmmaker will take part in a livestreamed Q&A with the audience.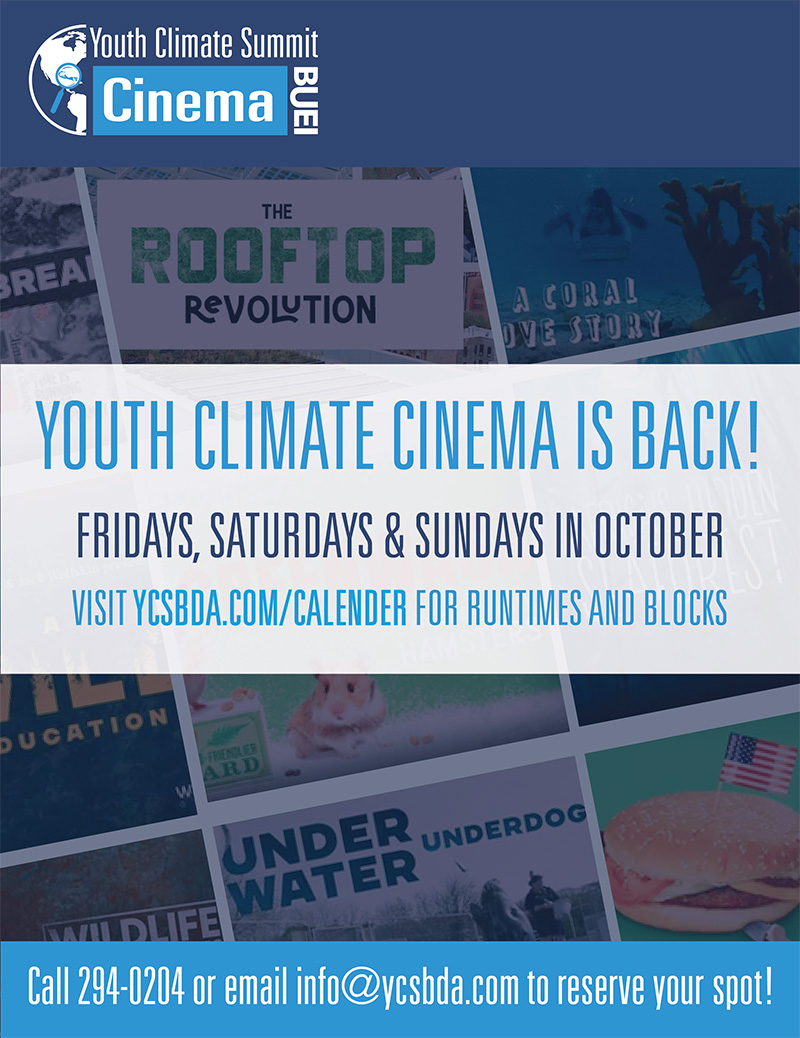 "On Sunday, October 16th at 5:30pm, BUEI will screen 'The Power of Us', a film underscoring the urgency of the climate crisis and shows the power of an intergenerational, collaborative movement to fight climate change, with the youth leading charge into the future.
"Scheduled for 5:45pm on Sunday, October 23rd, the film 'Kiss the Ground' sheds light on regenerative agriculture, a 'new, old approach' to farming. The film, narrated by Woody Harrelson, shows how regenerative farming has the potential to balance our climate, replenish our vast water supplies and feed the world.
"Our last full-length film will be Rebecca Cappelli's 'SLAY' on Saturday, October 29th at 3pm. 'SLAY' follows Cappelli as she travels around the world to uncover the dark side of the fashion industry. Combining the polished styles of a Vogue magazine and the grit of Vice News, 'SLAY' provides an in depth and eye-opening look into the realities of today's fashion industry while pointing towards viable and sustainable alternatives.
"Film times and post-film activities can be found on www.ycsbda.com/calendar. Held at BUEI, all films and related activities are free to attend. For more information about the BUEI's 'Climate Cinema' or the 'Youth Climate Summit' in November, visit www.ycsbda.com."

Read More About
Category: All, Entertainment, Environment, Films/Movies