[Updated] The Minister of National Security Michael Weeks advised "that the Emergency Measures Organisation [EMO] has been closely monitoring Tropical Strom Earl" and tomorrow morning [Sept 7] he will chair an EMO meeting.
Earlier today, the Bermuda Weather Service issued a Tropical Storm Watch, and said that Tropical Storm Earl is a 'threat to Bermuda.'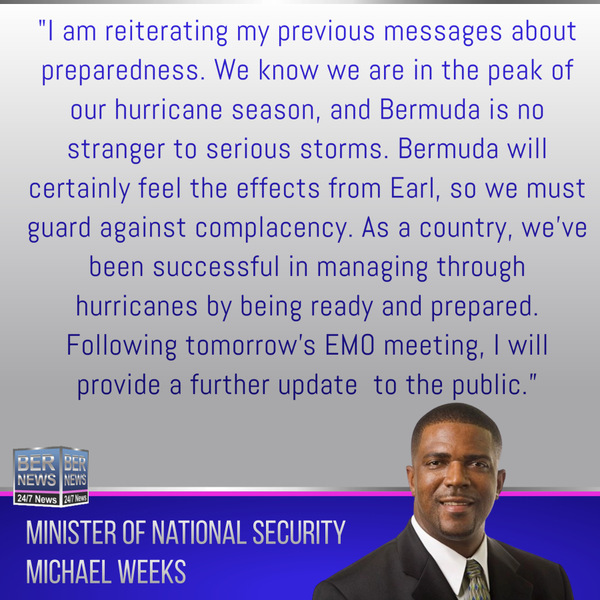 A Government spokesperson said, "The Minister of National Security, Michael Weeks advised today that the Emergency Measures Organisation [EMO] has been closely monitoring Tropical Strom Earl.
"And the Minister confirmed that tomorrow morning [September 7] he will chair an EMO meeting to get the latest update on the storm and to assess member agencies' preparedness. According to the Bermuda Weather Service [BWS] Tropical Storm Earl is considered a potential threat to the island. The public can review the 6.00 p.m. storm update from the BWS here: Bermuda Weather Service.
"The Ministry notes that TS Earl will likely bring a rapid onset of conditions as Earl's forward speed is expected to be increasing as it approaches and passes the island.
"Of particular note, the Parks Department's lifeguards have been extremely active today with multiple rescues on the south shore beaches, where hazardous surf and rip currents continue to build.
"In that regard, the public are urged to exercise caution should they venture into the ocean on the south shore."
This evening Minister Weeks said, "I am reiterating my previous messages about preparedness. We know we are in the peak of our hurricane season, and Bermuda is no stranger to serious storms. Bermuda will certainly feel the effects from Earl, so we must guard against complacency. As a country, we've been successful in managing through hurricanes by being ready and prepared. Following tomorrow's EMO meeting, I will provide a further update to the public."
"To assist residents in getting ready, homeowners and business should consider doing some of the following:
"Inspect and ensure their roof, windows, shutters, and doors are in good order and make any necessary repairs.
"Review family hurricane plans and update them with any changes to phone numbers and other important information.
"Take stock of all medical prescriptions their family and pets. Ensure you have at least two weeks supply on hand.
"Check their hurricane kit[s] to make sure they have working flashlights, a portable radio with spare batteries and a stock of non-perishable food to last for seven days.
"Ensure their home insurance policy is up to date.
"Visit vulnerable neighbours and ask them if they need any help with their preparations.
"For the latest updates regarding this storm system, visit http://www.weather.bm."
Update 9.20pm: Earl has strengthened and is now a hurricane.
Read More About