Beyond Plastic Bermuda will host free webinar entitled, "Reusables For Bermuda's Restaurants", on Tuesday [Sept 27], at 10:00am.
A spokesperson said, "Beyond Plastic Bermuda is very pleased to announce it is hosting a free webinar to be presented by the U.S. based Perpetual organisation, on Tuesday, September 27th, at 10:00am.
"Perpetual will provide the hospitality sector with the latest information on existing reusable programmes from around the world, including the U.S., Canada and France. They will show attendees how a reusable programme could successfully be deployed in Bermuda, while also discussing the pros, cons and pitfalls of various models.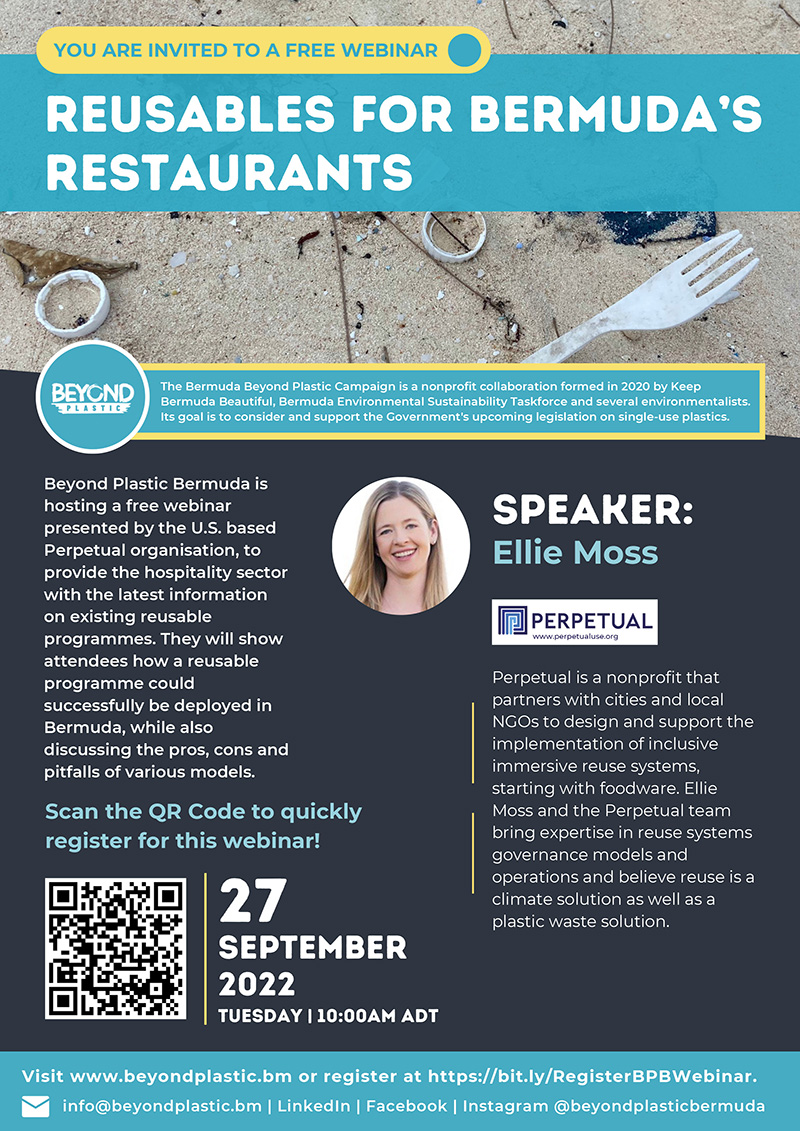 "Perpetual is a nonprofit organisation that partners with cities and local NGOs to design and support the implementation of inclusive, immersive reuse systems, that eliminate single-use disposables [SUPs] starting with foodware. Ellie Moss and the Perpetual team bring expertise in reuse systems, governance models and operations, and believe reuse is a climate solution as well as a plastic waste solution."
Ellie Moss, of Perpetual explains, "Reusable foodware systems offer a range of environmental, economic and aesthetic benefits over single-use platsics. Single-use disposable items are costly to human health, governments and the environment. Reuse is also a climate strategy. Efficient and safe reusable foodware systems can save cities and businesses money, contribute to cleaner streets and provide a better experience for users. However, we aren't there yet. To help get to the next level on reuse, Perpetual designs and implements city-scale reusable foodware solutions based on the context and needs of all of stakeholders.'
"The UN Environment Programme has stated, 'Prioritizing reusable products is not only critical for environmental health, but it can also be cost-effective. Businesses that allow consumers to bring their own bags, cups or containers can save on SUP-associated supply and storage expenditure, while customers can avoid potentially paying extra for shopping bags or containers.'
"As cited on the Waste 360 website, in an interview on California's impending Single-use Plastic legislation, Blacow Daeger, Oceana's Pacific Policy and Communications Manager, said, 'Restaurants in the U.S. spend $19 billion purchasing disposable foodware items. California restaurants that have voluntarily made the transition to a combination of by request and reusable foodware have been proven to save between $3,000 and $21,000 per year, while reducing waste and greenhouse gas emissions. Food delivery app Postmates reported that they saved over 122 million packs of plastic cutlery from entering the waste stream, equating to a savings of $3.2 million dollars.'
A spokesperson said, "By eliminating SUPs businesses can actually save money and improve efficiencies. Replacing SUPs with alternative, eco-friendly and more sustainable products is a start, however, this solution continues to add to the single-use issue and waste stream. Re-usables are the most effective solution for the environment and ultimately must become a large part of the solution. Creating a circular economy, where we reduce, reuse and recycle is the most effective means of reducing greenhouse gasses and slowing climate change."
To attend this free webinar, please register here.

Read More About
Category: All, Business, Environment, News