The Grateful Bread will be hosting a free giveaway event at City Hall on Saturday, November 12, with donations for the event being accepted on October 1.
A spokesperson said, "On Saturday, October 1, drop off items in preparation for our next giveaway event at City Hall on Saturday, November 12.
"Everything is expensive in Bermuda and the less fortunate are in greater need than ever before. Please be grateful and give back. In preparation for our big City Hall giveaway event, our monthly drop off for new/organization day of currently stored donated items is:
Saturday, October 1st from 10.00am until 12.30pm [unless raining]
[Rain cancellation email will be sent out by 9.00am that day]
"We also need volunteers that day to help receive donated goods and help organize currently stored goods at our GB Storage container situated at the back of Frameworks, 2 Mills Creek Lane, Pembroke [the Mills Creek Lane Road with all the signs just before the Spanish Point/St Johns junction roundabout].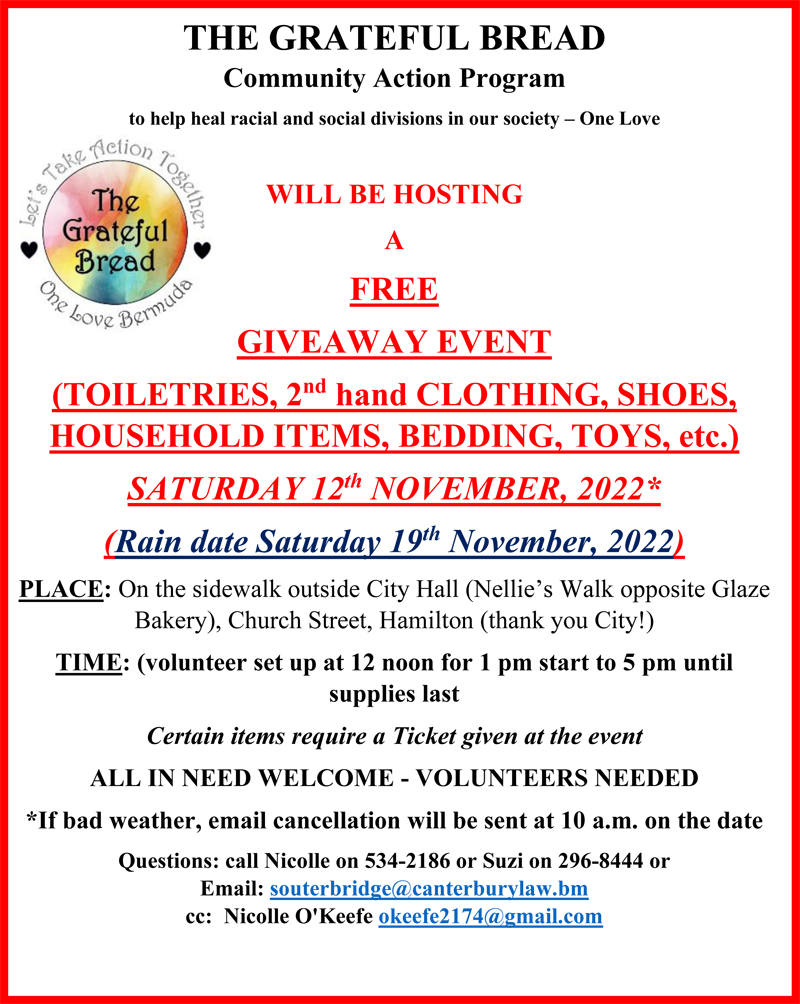 "How to help:
1] Volunteer to help at drop off day on October 1st [10 am to 12:30 pm] and the main City Hall giveaway event on November 12 [12.00pm to 5.00pm - email gratefulbda@gmail.com]
2] Bring with you a clear large plastic storage tub to donate on October 1 [you can purchase from Gorham's or Phoenix, etc.] and label it The Grateful Bread. We need them.
"Categories of items to donate are: ladies' clothes [any season, please mark S, M or L on the label], ladies' shoes, men's clothes [please mark general size on label], men's shoes, kids' clothes, kids' shoes, toys/games, kids' books, kids' school supplies, bedding, household goods, miscellaneous, toiletries [new only]. No adult books please.
"Strict policies for drop off:
Only good quality items in clear white or clear blue plastic trash bags [not dark trash bags that we cannot see through] and clearly labelled and easy to see. Please no mold or junk which will be rejected.
No paper bags [unless if donating for guest carry bags, bag them up in clear plastic trash bags, they can be used by guests for takeaway bags when shopping]. No cardboard boxes.
Fragile breakable items must be wrapped in tissue paper or bubble wrap to avoid breakage in a clear plastic trash bag and marked fragile.
All bags or tubs must be labelled saying the category. Easy to see. Large marker on scrap paper is fine. Eg: boys clothes size 14
No unattended goods to be left at the container or we will lose the container kindly sponsored by Michael and Lisa Richold. This is not a dumping site and the times above are the only time to donate before our November 12 event [although you can bring donated items to the event itself on November 12].
"Thank you from The Grateful Bread team, including Juliana, Suzi, and Nicolle. Questions? Call Suzi on 296-8444 during work hours Monday to Thursday or email gratefulbda@gmail.com."
Read More About
Category: All