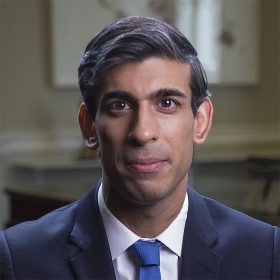 Premier David Burt congratulated the new British Prime Minister Rishi Sunak, saying he "looks forward to working with the new Prime Minister and his Ministers in Bermuda's interests."
A Government spokesperson said, "Premier David Burt today offered his congratulations to the Rt. Hon. Rishi Sunak on his appointment as Prime Minister of the United Kingdom."
Premier Burt said: "I look forward to working with the new Prime Minister and his Ministers in Bermuda's interests.
"Next month's Joint Ministerial Council will be the first opportunity to engage with the Foreign, Commonwealth and Development Office teams since the change in Administration."
Prime Minister Sunak — the first person of color to hold the position — takes over following a tumultuous time in UK politics, which saw Liz Truss resign after only 45 days in office, which followed after the resignation of Boris Johnson.
The BBC reported, "Rishi Sunak has pledged to fix 'mistakes' made under Liz Truss's leadership and warned of 'difficult decisions" ahead, in his first speech as prime minister' He said he would restore trust, rebuild confidence and lead the UK through 'a profound economic crisis.'
"Mr Sunak promised to deliver the manifesto that won the Conservatives a landslide election victory in 2019. His speech outside No 10 came after he was appointed PM by King Charles. The UK's first British Asian prime minister, Mr Sunak announced his cabinet this afternoon, after telling Tory MPs to unify or face electoral oblivion.
"Following Mr Sunak's speech, opposition parties repeated their demand for an immediate general election and argued Mr Sunak had no mandate from the public.
"Mr Sunak – who was chancellor until July this year – said he would place economic componence and stability at the heart of this government's agenda, warning that "will mean difficult decisions to come."
Read More About