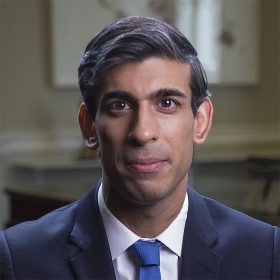 Rishi Sunak is set to become the United Kingdom's next Prime Minister, with the 42-year-old to become the first person of color to hold the position.
The Standard reported, "Rishi Sunak is to become Britain's 57th Prime Minister after both Boris Johnson and Penny Mordaunt pulled out of the race to be the next Tory leader.
"He will be Britain's first non-white Prime Minister and at the age of 42 the youngest since Lord Liverpool in 1812.
"Former Prime Minister Mr Johnson withdrew from the race on Sunday night. He was followed by Commons Leader Ms Mordaunt today, leaving Mr Sunak as the only candidate to have publicly secured the support of at least 100 MPs by 2pm needed to get on the ballot paper of two contenders to be put to party members."
A BBC story said, "Seven weeks after losing to Liz Truss in this year's first Tory leadership contest, Rishi Sunak has emerged victor in this one.
"He is set become the UK's first British Asian prime minister, and will take office as the UK faces enormous economic challenges.
"Rishi Sunak will now take over as prime minister at an extremely difficult moment for the economy. We haven't heard any detailed plans from him since the leadership campaign over the summer.
"There will now be calls for him to provide clarity about how he intends to balance the books. There will also be political pressure for a general election. Opposition parties want one and some Conservative MPs have said they think one is necessary now too."
A Guardian story said, "Sir Graham Brady, chair of the 1922 Committee, is making a statement now. He says he can confirm there has been one valid nomination, 'and Rishi Sunak is therefore elected as leader of the Conservative party.' He says Sunak is going to address Tory MPs at 2.30pm in the Commons. This will be the first time Sunak has spoken in public since Liz Truss resigned."
In describing his background, the UK Government website says, "Rishi Sunak was previously appointed Chancellor of the Exchequer from 13 February 2020 to 5 July 2022.
"He was previously Chief Secretary to the Treasury from 24 July 2019 to 13 February 2020, and Parliamentary Under Secretary of State at the Ministry of Housing, Communities and Local Government from 9 January 2018 to 24 July 2019.
"Rishi went to Winchester College and studied Politics, Philosophy and Economics at Oxford University. He was also a Fulbright Scholar at Stanford University (USA) where he studied for his MBA.
"Rishi was elected Conservative MP for Richmond (Yorks) in May 2015 and served as a Parliamentary Private Secretary at the Department for Business, Energy and Industrial Strategy from June 2017 until his ministerial appointment."
Mr Sunak will take over following a tumultuous time in UK politics, which saw Liz Truss resign after only 45 days in office, which followed after the resignation of Boris Johnson.
Read More About