A new series of events aimed at would-be writers has launched in Bermuda.
A spokesperson said, "On Thursday, October 13, Wine & Wordsmithy will host its first event at Milan Milan from 5:30pm. In keeping with the venue, the inaugural writers' gathering will have a Tuscan theme, with two wines from the region on offer, along with Italian nibbles throughout the evening.
"Participants will enjoy an expert wine tasting experience led by Jo-Rena Davis – the Wine Diva – before being guided through two writers' exercises. Once the writers are warmed up, they will be invited to indulge in a refill of their favourite wine from the evening's selection, and encouraged to make progress on their writing projects.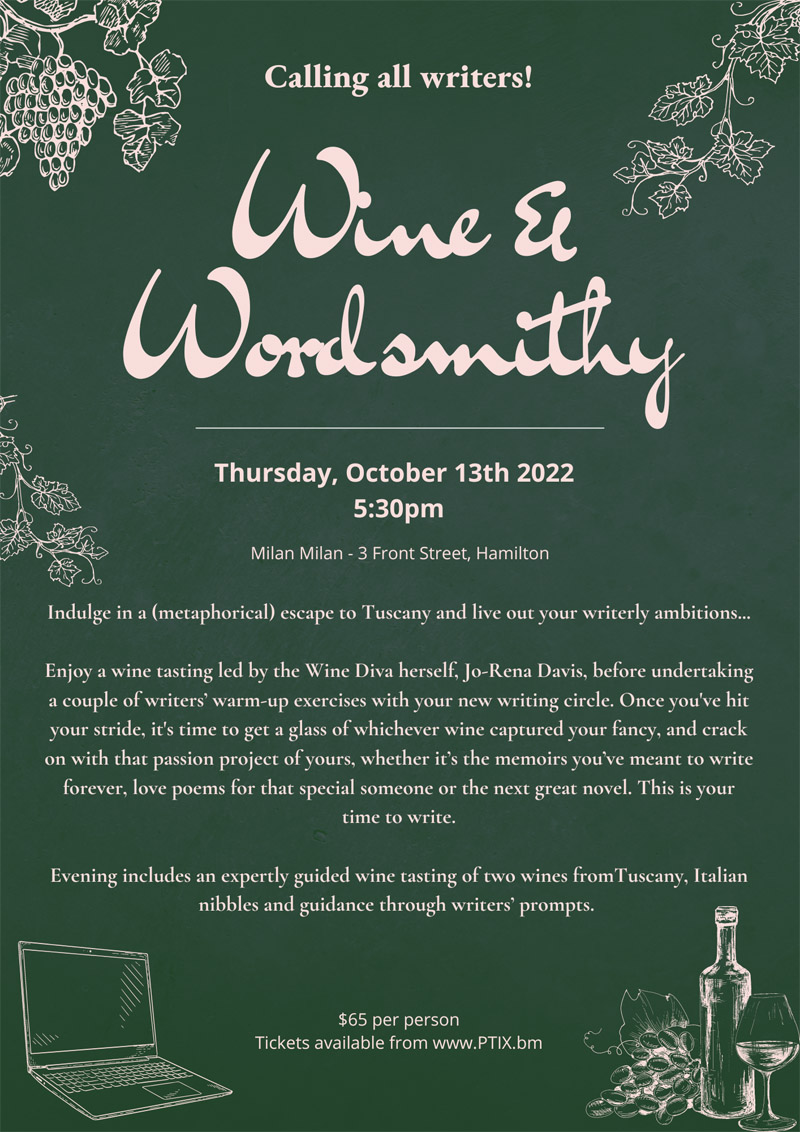 "The evening's wine expert, Jo-Rena, holds a Level Three accreditation from the Wine & Spirit Education Trust [considered one of the foremost providers of wine qualifications], and she is currently undertaking the highest level of sommelier training.
"The writing portion of the evening will be hosted by Siân Blackmore, a local copywriter working on her first novel. She holds a Master of Studies degree from the University of Cambridge in Creative Writing."
Ms Davis said: "We are so excited to be hosting the first Wine & Wordsmithy event at Milan Milan later this month. This is a wonderful opportunity for creative souls to connect with likeminded people and to indulge in an expressive escape from the daily grind."
Ms Blackmore said: "Wine & Wordsmithy is an event which will allow would-be writers to carve out time for themselves and their literary ambitions. Unwinding with a glass of wine, nibbles – and good company – is the perfect opportunity for individuals or groups of friends to flex their creative skills, and have some fun!"
The spokesperson said, "Included in the cost of the event is an expertly guided wine tasting of two wines from the Tuscan region, canapes, and an introduction to some creative writing exercises. Tickets are $65 including gratuities and can be purchased by visiting PTIX.bm here.
"Participants on the night will be able enjoy special product discounts at Milan Milan, including some holiday promotions, and a five per cent discount on all regular products. If any of the featured wines are particularly enjoyed by the writers, case purchases will receive a ten per cent discount."
Read More About
Category: All, Entertainment