The Adult Education School today [Nov 30] announced the appointment of Arlene Brock and Thaao Dill, with Ms Brock to serve as the new Managing Director, while Thaao Dill will be new Director of Programming.
A spokesperson said, "The Adult Education School today announces the appointment of two dynamic individuals who will lead the school as it reimagines its future.
"Arlene Brock is the new Managing Director and will have responsibility for the operation of the school. Ms Brock's connection to the AES began decades ago when she helped her aunt Merle Brock Swan Williams, the school's founder, by teaching classes as well as undertaking administrative tasks. Since then, she has had a successful career as a lawyer and in key leadership roles at home and overseas, including serving as Bermuda's first Ombudsman from 2005 to 2014.
"Thaao Dill is the new Director of Programming and will shape and lead the AES's programmes to ensure they meet the evolving needs of today's community. Mr Dill had nine years of active engagement with learners in his previous role as Recruitment Officer at Bermuda College and has held a number of leading positions within the island's communications industry.
Thaao Dill, Arlene Brock and Aaron Crichlow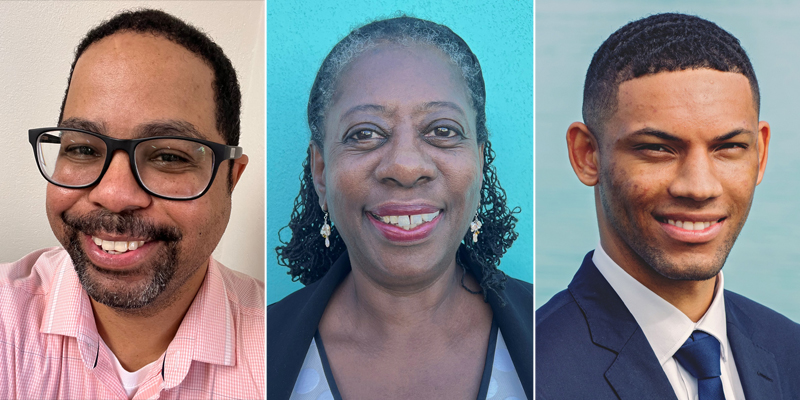 "Ms Brock and Mr Dill will oversee a reimagining of the school intended to support and inspire anyone in need of education, from teenagers who disengaged from traditional academic environments to working adults who want more from their lives, as well as service providers who require more resources and support for their clients.
"The AES, which was formed in 1958, suspended services at the end of the 2020-21 school year. At that time, the AES Board, assisted by consultants and community volunteers, undertook a comprehensive feasibility study of adult education needs in Bermuda. The study showed a clear need for improvements in adult education across the island."
Aaron Crichlow, Board Marketing Committee Chairman at AES, said: "The AES Board has listened to the community's advice, and agreed that there is an urgent need to improve and expand our organisation to better serve and support our people as they grow. We understand that education is one of the most effective tools for individual empowerment and collective freedom.
"We will honour the values and commitment to social justice that have been our hallmark for more than 60 years. We are deeply focused on providing the kind of comprehensive, holistic service that Bermuda's community requires."
The spokesperson said, "Studies have shown that 16 per cent of Bermudians without a high school certificate are unemployed, while 30 per cent of Black males aged 16 to 25 are at risk of poor literacy and life competence."
Ms Brock said: "This is an opportunity for us to address the critical needs of so many people in our community. We are excited to connect with people, learn about their challenges and help them solve problems and achieve success. The Adult Education School is here to help.
"I am thrilled to honour the legacy of my aunt and take this important role that continues my long-standing connection with this vital community institution."
The spokesperson said, "Learners will be given individualised assistance tailored to meet their specific needs."
Mr Dill said: "My experience working with young people has taught me that many individuals require much more than is provided by the traditional classroom environment.
"An AES team member will work with each learner to identify their big picture goals, define a clear pathway to achieve them and get access to their required resources. We will remain directly connected with each learner, providing support and encouragement every step along the way to their destination."
The spokesperson said, "A pilot programme at the Adult Education School has been underway since August 2022, providing GED preparation through tutorials for a small group of learners at its Dundonald Street home. Their feedback is crucial in guiding the AES as it develops the GED programme for a planned expansion early in 2023. Further robust programming is lined up in the new year, offering vocational skills training; college and career readiness preparation; and community education and enrichment.
"Additionally, the Adult Education School is building a consortium of service providers who share its values and commitment to Bermuda's community of adult learners. It will form partnerships to solve common problems, build institutional strength and reduce redundancy in the adult education sector.
"If you're interested in learning at the Adult Education School, or providing support as a community member or donor, please call or WhatsApp Thaao Dill on 705-6677, call Aaron Crichlow on 732-1899 or email aesbda@gmail.com."

Read More About