KraftHeinz and Butterfield & Vallis completed the third quarter of their 2020 Kraft Cares Campaign at the end of October, raising almost $5,000 for the Big Brothers Big Sisters organisation.
"For a limited time, with the purchase of any Kraft Cheese product at stores throughout Bermuda, a percentage of sales was accrued to be donated to Big Brothers Big Sisters," the company explained.
"Recently, a cheque was presented to the Big Brothers Big Sisters in the amount of $4,862.58.
Patrina O'Connor-Paynter [Managing Director, Big Brothers Big Sisters] and Lauren Purvey [KraftHeinz Sales Manager]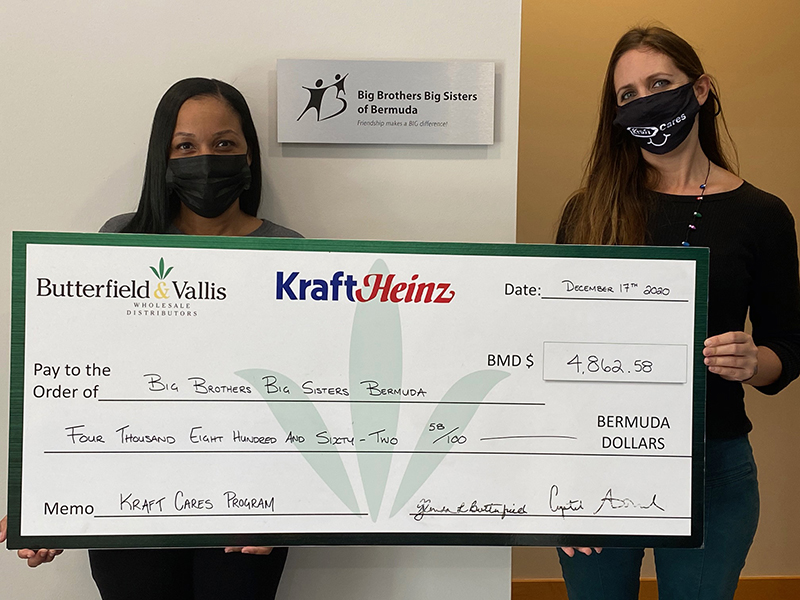 "These funds will help the BBBS, provide quality mentoring relationships to young people in need, helping them to reach their full potential.
"For the months of November, December and January funds raised from the Kraft Cares campaign, will be donated to the Coalition for the Protection of Children.
"The management & staff of both KraftHeinz and Butterfield & Vallis would like to thank everyone for purchasing Kraft Cheese and supporting these incredible charities."
Read More About