The Berkeley Institute defeated CedarBridge Academy 12 – 9 to win the Bermuda School Sports Federation Senior School Netball Tournament at Bernard Park.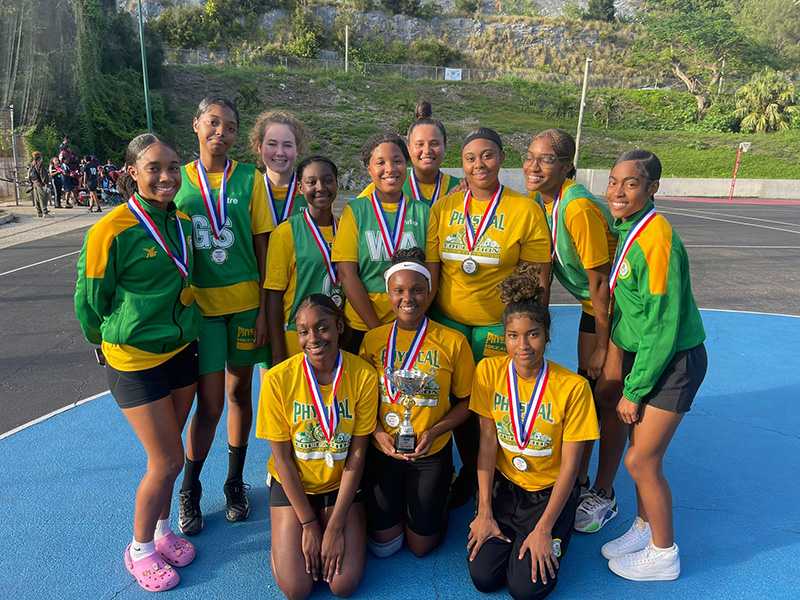 CedarBridge jumped out to an early 5-0 lead in the final with Rihanna Reddicks leading the way. Berkeley slowly got back in the match but trailed 7-4 at the half. Berkeley found their scoring touch in the second half and went on a 6-0 run. Both teams exchanged late goals with Berkeley holding on to the lead. Makaylie Smith led Berkeley with 8 goals while Haley Trott added 4. Reddicks finished the match with 5 goals with Jamir Hatherley scoring 4.
Warwick Academy Blue defeated CedarBridge Blue 12 – 4 in the third-place match. Adriana Argent led all scorers with 7 with Shayla Cann adding 5. Xola Rollins and Kisaye Bell scored two each for CedarBridge.
Somersfield Academy edged past Bermuda High School 4-3 in the battle to determine 5th/6th place. Kennedy Kowalski scored twice for Somerfield with Zarah Sidiki and Satya Darrell adding one each. Caitlin Neijmeijer scored twice for BHS and Sophie jones scored one.
CedarBridge Red defeated CedarBridge Blue 19-2 in their semi-final. Hatherley was unstoppable scoring 15 goals with Reddicks adding 4. Bell and Rollins again shared the duties for the Blues scoring one goal each.
Berkeley defeated Warwick Academy blue in the other semi-final. Trott and smith scored 5 goals each in the win. Cann scored 3 for Warwick with Argent chipping in with one goal.
Bermuda School Sports Federation Senior School Netball Tournament Results
Pool A
Bermuda High School – 7
Warwick Academy White – 7
Berkeley Institute – 9
CedarBridge Academy Blue – 0
Berkeley Institute – 9
Bermuda High School – 1
CedarBridge Academy Blue – 7
Warwick Academy White – 3
Bermuda High School – 5
CedarBridge Academy Blue – 5
Berkeley Institute – 13
Warwick Academy White – 1
Pool B
Somersfield Academy – 7
Saltus Grammar – 6
CedarBridge Academy – 8
Warwick Academy Blue – 3
Warwick Academy Blue – 7
Saltus Grammar – 2
CedarBridge Academy Red – 10
Somersfield Academy – 2
CedarBridge Academy – 15
Saltus Grammar – 2
Warwick Academy Blue – 5
Somersfield Academy – 1
Playoffs
Bermuda High School – 8
Saltus Grammar – 3
Somersfield Academy 6
Warwick Academy White – 4
5th/6th Place
Somersfield Academy – 4
Bermuda High School – 3
Semi Finals
Berkeley Institute – 10
Warwick Academy Blue – 4
CedarBridge Academy Red – 19
CedarBridge Academy Blue – 2
Third Place Match
Warwick Academy Blue – 12
CedarBridge Academy Blue – 4
Final
Berkeley Institute – 12
CedarBridge Academy – 9

Read More About