The Bermuda Underwater Exploration Institute [BUEI] is advising the public that its board members will match every dollar donated to the Institute between now and December 31, up to $20,000.
A spokesperson said, "The Bermuda Underwater Exploration Institute has continually evolved over the past twenty-five years to keep Bermuda's marine history alive, support conservation and an appreciation for the ocean, and provide education opportunities to tens of thousands of students and visitors to our facility.
"Our ocean's future depends on people who are willing to help safeguard its health and we are proud to say that our Board Members are leading the way.
"In the spirit of giving, every dollar you donate to the Bermuda Underwater Exploration Institute between now and December 31st will be matched by BUEI's Board Members – up to $20,000."
Karla Lacey, BUEI CEO, said, "We are honoured to continue serving our community through our exhibits and educational programmes. As a registered nonprofit charity, we are incredibly thankful for the generosity of our all-volunteer Board, and donors. None of what we do is possible without them."
The spokesperson said, "Please consider supporting the future of our oceans by making a financial contribution to our annual appeal. Your support will help BUEI further its vision of ensuring the ocean around Bermuda is widely understood, appreciated, and protected.
"Contribution can be made online at BUEI.bm or by calling 441-294-0204."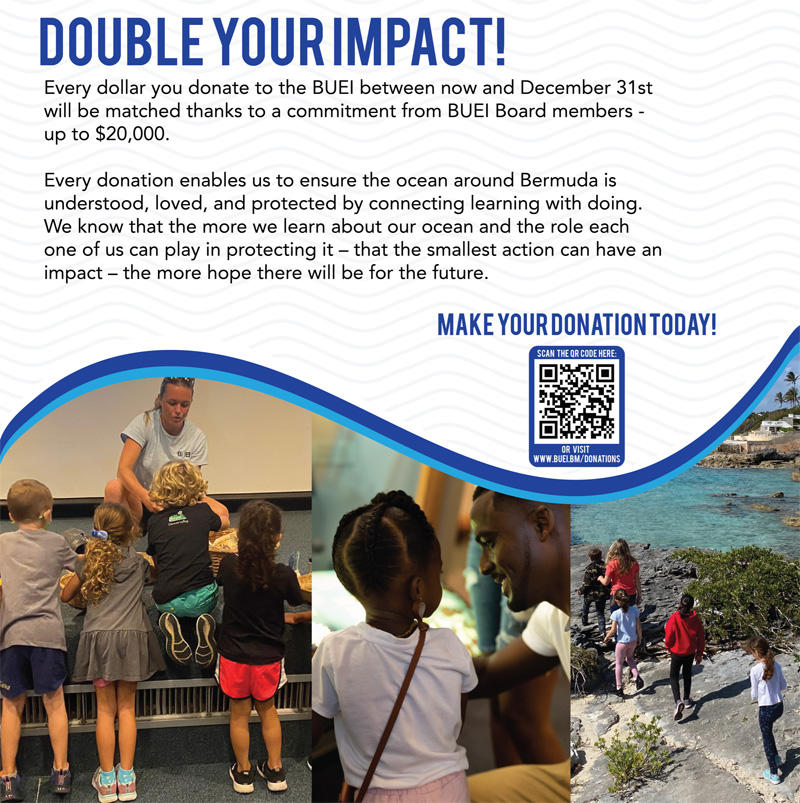 Read More About
Category: All