[Written by Stephen Wright]
Caitlin Conyers admits her upcoming cycling season will determine her future in the sport as she aims to become the first Bermudian female cyclist to qualify for the Olympic Games.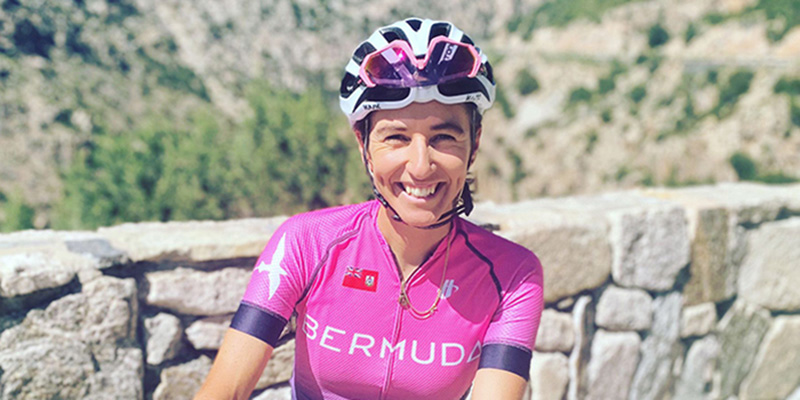 Conyers begins her bid for Paris 2024 in April at the Pan American Road and Track Championships in Panama City, Panama, where two spots will be available in the road race for nations who have not already qualified for the Olympics through UCI points.
There will be further opportunities to qualify for the Olympics at the UCI World Championships in Glasgow, Scotland, in August with ten places available in the time-trial to nations not already qualified via the points route.
The top 45 nations in the UCI rankings in October will automatically qualify for Paris.
"It's a huge year for me," Conyers told Bernews. "My whole cycling career depends on this year. I doubt I'll continue cycling full-time if I don't make the Olympics.
"Going to the Olympics would be a dream. I think it's possible, and it would be amazing. I'd be the first Bermudian woman to qualify for the Olympics and the first Bermudian since Elliot Hubbard [who competed at the Atlanta Games in 1996]."
Conyers has enjoyed a meteoric rise since she started cycling competitively in 2018 and, a year later, represented Bermuda at the Pan American Games in Lima, Peru.
She was ready to race at the Commonwealth Games in Birmingham, England, last summer before being ruled out after testing positive for Covid-19 just days before her first event.
"If you'd said back then [in 2018] I'd be trying to qualify for the Olympics in 2024, people would have laughed at you," she said. "My parents definitely would have laughed at you!
"There's part of me that would have believed it, though. I always believed I could be good at this. I've had the right people supporting me too."
Conyers arrived in Medellín, Colombia, last week for a month of high-altitude training before she heads to Valencia, Spain, to compete for the International Cycling Academy amateur team in the Spanish Cup and Mediterranean Cup next month and March.
"Colombia has been incredible," said Conyers, who hopes to represent Bermuda at the Central American and Caribbean Games in San Salvador, El Salvador, and the Pan American Games in Santiago, Chile, this year.
"Every day I've been here, I've seen a rider on UCI World Tour. Colombia is a land of cyclists!
"I've been going for three-hour rides. They're easy rides at the moment, as I'm still acclimatising. The high altitude can take a toll on your body if you're not careful and put you in a hole. I'll gradually build up the intensity but at a lower elevation."
She added: "I'll head to Valencia next month, as I've found a team to ride for there.
"I've raced in the US over the past few years, but stage races and climbing are my preference. Spain offers a lot more of that than the US. I wanted to try something different."

Read More About