[Written by Stephen Wright]
Barefoot runner Dr Sidy Diallo hopes to inspire others to take up running when he competes in his 100th country and 369th marathon in Bermuda as part of the Chubb Bermuda Triangle Challenge.
Dr Diallo, a French diplomat and author of Running Barefoot for Human Survival, will race in the Butterfield Front Street Mile on Friday, the BF&M 10K Run and Walk on Saturday and the PwC Bermuda Marathon on Sunday.
The Paris resident, 67, also intends on completing his own "private marathon" on Friday or Saturday – although, unlike most runners, he has no interest in his marathon time.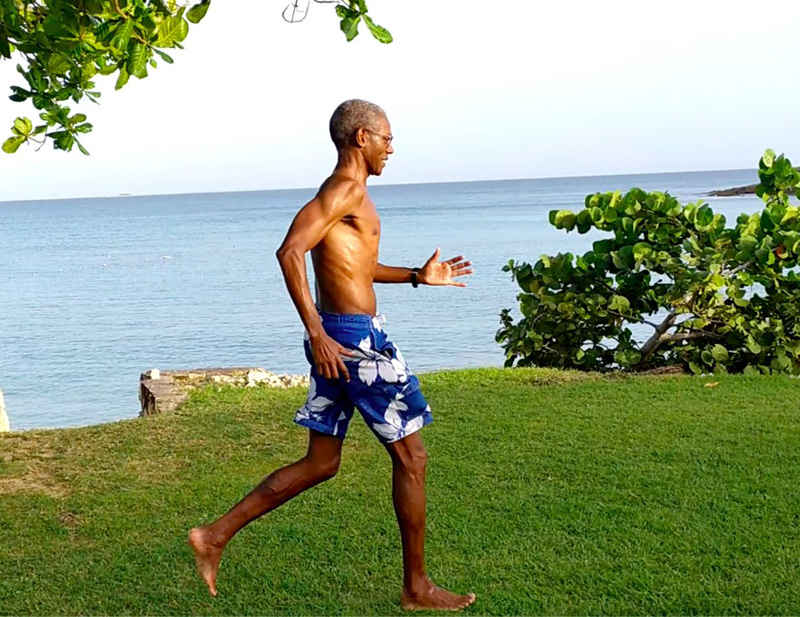 "For me, the time is not important," said Dr Diallo, who has run on all seven continents, including 18 ultramarathons, any distance longer than a marathon. "The aim is to stay fit and healthy and to inspire people.
He told Bernews, "If I can do it, you can do it – that's my point. I want to finish the race pain and injury free. That doesn't mean I'm going to be a lazy guy!
"I always feel at home in the Caribbean, so I'm looking forward to visiting Bermuda. I think the people will be lovely."
An advocate of the health benefits of long-distance running, Dr Diallo was inspired to run marathons after watching 40,000 runners take to the streets of the "Windy City" for the Chicago Marathon in 2008 and 2009.
He started running in 2010 aged 55, competing in the Chicago Marathon before switching to barefoot running five years later.
"I want to motivate others to run – this is my purpose," said Guinean-born Diallo. "I want to live by example and show people they can do that. It's why I run in many countries.
"I'm encouraging people to do more physical activity. The human body is designed for physical activity.
"We don't need to run for recognition. We need to run to stay fit and healthy."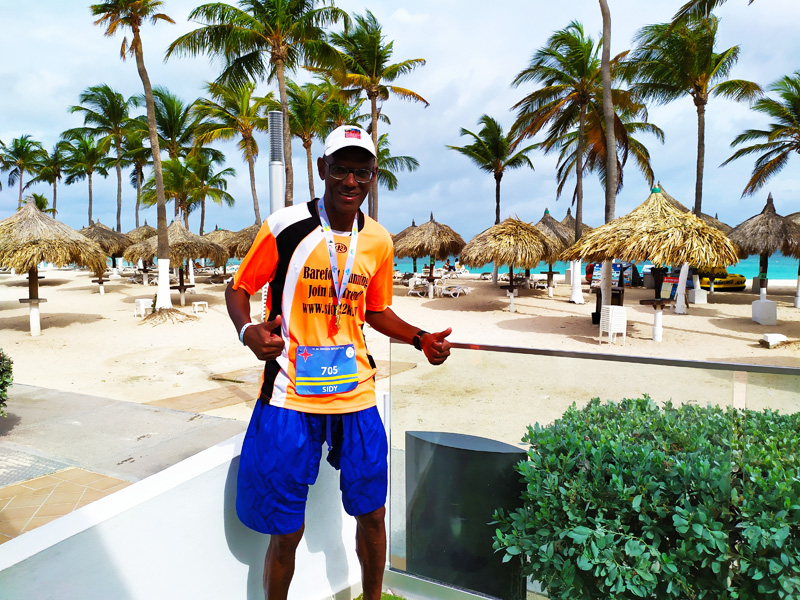 Dr Diallo, who uses the name Dr Barefoot to post on Facebook, has raced barefoot in six continents, 56 countries and 123 marathons, including the Chicago Marathon and New York Marathon in 2019, the Berlin Marathon and London Marathon in 2021, and the Boston Marathon last year, and an ultramarathon.
He points out that running barefoot was a matter of survival, not just fun, for the first humans.
"I transitioned to minimal shoes at the Rome Marathon in 2015," said Dr Diallo, who competed in 15 barefoot marathons in 14 weeks in 2018.
"I thought the next step is running barefoot. There are many benefits. Whether I run barefoot or in minimalist shoes, I finish the race with no pain or injuries. It becomes like a walk in the park!
"I started reading more literature and found out, 'Wow, the human body is meant for barefoot running'."
Dr Diallo, who said he might wear barefoot trainers in Bermuda depending on the terrain on the railway trail, added: "Running marathons is like hunting. The medal is like the hunted animal – it's symbolic. When people wear it around their neck, they cannot resist biting the medal like it's an animal. 'I've got you!'."
Although Dr Diallo retires in two months, he insists he has plenty more marathons left in the tank.
"When I was a junior diplomat in Burkina Faso in the Nineties, I bought a stick, as I thought it would be good for retirement," he added. "I thought I would need it, but here I am running marathons."
For more details, click here.

Read More About