The Bermuda Underwater Exploration Institute [BUEI] announced the return of 'Kids Hour Saturdays'.
A spokesperson said, "Beginning this weekend, on January 21st, BUEI hosts the popular 'Kids Hour Saturdays' series every third Saturday of the month at 11am and 2pm respectively. Each hour features the screening of a short film followed by a book reading for children aged 5-12 years.
"This Saturday, Kids Hour focuses on Barracudas with two short, child friendly films about the large predatory fish. The Barracuda Documentary explores the coral reefs of the Indo-Pacific Region, where thousands of marine species live together peacefully, including Barracuda.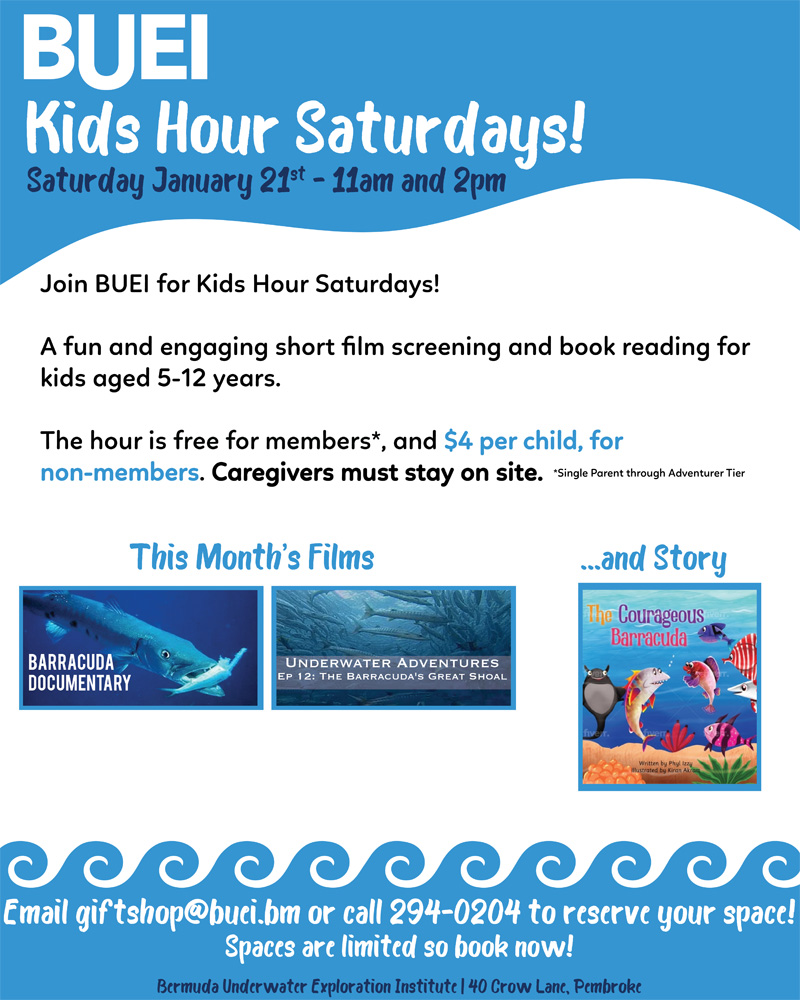 "The short film, 'The Barracuda's Great Shoal', follows a school of barracuda throughout the shallows of Sipadan Island located in the Celebes Sea off the east coast of Sabah, Malaysia. Marking the favourite routes of the giant barracuda, the shallows of Sipadan make for a great dive site with these fierce predators.
"The featured book, 'The Courageous Barracuda', is set during the annual Sunray Integrity Festival where each fish has the chance to perform and be recognised for a strong ethical value. This colourful picture book teaches children about the challenges of making friends and the importance of admitting their mistakes.
Karla Lacey, BUEI CEO said, "We are excited for the return of the popular 'Kids Hour Saturdays' series. The BUEI Team has worked hard to prepare a new selection of educational and fun ocean-themed films and books for all those who attend!"
The spokesperson said, "'Kids Hour Saturdays' are free for members [Single Parent through Adventurer Tier] and all care givers, and $4 per child for non-members. Please note, caregivers must stay on site for the hour. Kids Hour admission also includes entry to the Ocean Discovery Centre at BUEI.
"Mark your calendars for BUEI's upcoming Kids Hour Saturdays on Saturday February 18th, featuring the Basking Shark, and Saturday March 18th when the focus is on Dolphins!
"Space is limited and advance registration is encouraged. To register for BUEI's Kids Hour Saturdays, please call the Oceans Gift Shop on 294-0204."
Read More About
Category: All, Environment