The Bermuda Underwater Exploration Institute [BUEI] announced the topic for this month's 'Kids Hour Saturdays' is Manatees.
A spokesperson said, "Kids Hours Saturdays' takes place every third Saturday of the month at 11am and 2pm respectively. Each hour will feature the screening of two short films followed by a book reading for children ages 5-12 years old.
"On Saturday, May 20th, 'Kids Hour' will screen two short films, 'Elizabeth and the Manatees' and 'Florida Manatees'. These films will then be followed by a reading of 'Mary Manatee, a Tale of Sea Cows' by author Suzanne Tate and Illustrator James Melvin.
"In the first film, 'Elizabeth and the Manatees', documentary filmmaker Johnathan Bird recounts the story of a young girl as she meets manatees for the first time. Through Elizabeth's eyes, viewers learn how manatees have managed to coexist amongst people in Crystal River, Florida, home of the world's biggest manatee population. In the second film, 'Florida Manatees', Johnathan Bird explores the lives and habits of these sea creatures.
"The book for this month's 'Kids Hour' is 'Mary Manatee' by author Suzanne Tate. Following a Manatee named Mary, Tate's book tells the story of a manatee family and their interactions with the human world. Full of detailed and charming illustrations, this book will delight young readers.
"Kids Hour Saturdays are free for BUEI members [Single Parent through Adventurer Tier] and $4 per child for non-members. Please note, caregivers must stay on site for the hour.
"Mark your calendars for BUEI's upcoming 'Kids Hour Saturdays' on Saturday June 17th when the focus is on Sea Turtles!
"Space is limited and advanced registration is encouraged. To register for BUEI's 'Kids Hour Saturdays', please call the Oceans Gift Shop on 294-0204."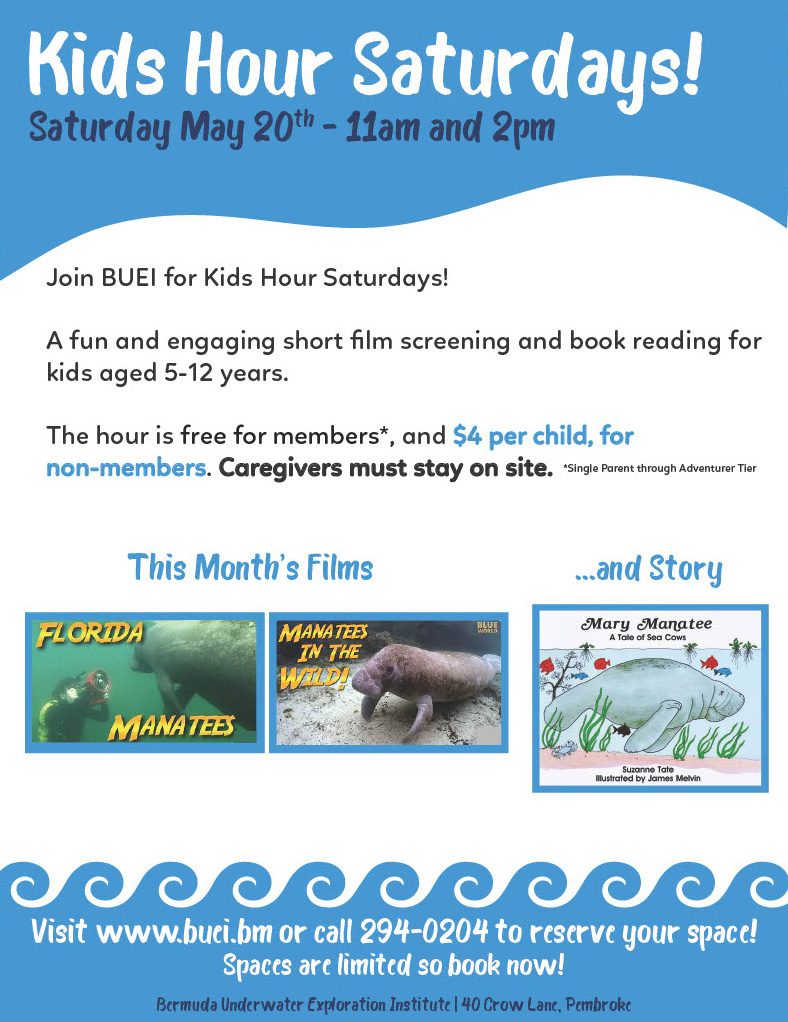 Read More About
Category: All, Environment