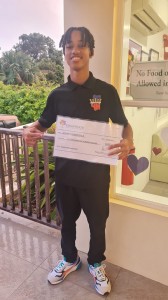 [Written by Stephen Wright]
Jediah Cumbermack hopes to compete in the MotoAmerica STG Junior Cup this season and will head to a training camp in Buena Park, California, in preparation.
The 16-year-old has been invited to the JP43 Training Camp, run by top coach Jason Pridmore, from February 21 to 27 ahead of the Junior Cup, which begins at the Daytona International Speedway in Florida from March 9 to 11.
"Training at the JP43 Training Camp can only help me improve my riding craft," Cumbermack told Bernews.
"I met Jason after I'd competed in the North American Talent Cup [NATC], and we set a date for me to go out there and improve as a rider."
Cumbermack competed in several NATC races last year against some of the most talented young riders from the United States, Canada and Mexico. He said he is looking for improved performances when he returns overseas to compete.
"The whole goal is to get to the paddock of the MotoAmerica STG Junior Cup," he said.
"It would be great to get a podium! The Junior Cup is a bit different from the North American Talent Cup. I'd be racing a Kawasaki Ninja 400 [a 399cc series sports bike] rather than the Aprilla RS 250 SP2 bike. The 400 is a little faster!
"My main goal is to do better than last season. I'd didn't have much training last time, so I'll be looking to do better."
Cumbermack is appealing for sponsorship to help fund his racing ambitions in the US this year.
"Motorcycle racing is an expensive sport, and sponsorship helps out a lot," said Cumbermack, who will race in Bison apparel as a sponsored rider.
The CedarBridge Academy student will hold a car wash fundraising event at Rubis Paget Service Station on Middle Road from 9 am to 3 pm on Saturday [February 11].
Patrina Cumbermack, Jediah's mother, has also set up a funding page to raise money to help her son compete in the ten-race series.
Edgewood Pediatric Services, Aries Sports Centre, Butterfield & Vallis, Feasale Inc and Kalm Salon Lock Gems have already come on board as local sponsors.
"We would truly appreciate any support," Ms Cumbermack said. "This is definitely going to take a village, but I believe in Jediah, and I know motorcycle racing is his passion."
For more information on how to sponsor Cumbermack, click here.

Read More About