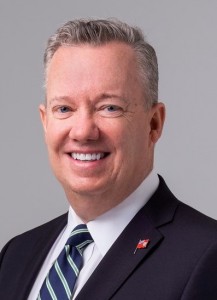 Association of Bermuda Insurers and Reinsurers CEO John Huff will speak at the Global Insurance Symposium panel.
A spokesperson said, "The Association of Bermuda Insurers and Reinsurers [ABIR] will represent the Bermuda's leading international re/insurers at the Global Insurance Symposium [GIS] in Des Moines, Iowa on April 18-20.
"John Huff, ABIR's Chief Executive Officer, will be a featured presenter on the event's "Global Panel", where he will discuss the challenges and risk-diversifying opportunities of global insurance and reinsurance markets.
"Christine Holmes, Partner at EY, will moderate the panel, which also comprises Petra Hielkema, Chair of the European Insurance Occupational Pensions Authority [EIOPA], and Michael Consedine, CEO of the National Association of Insurance Commissioners [NAIC].
"The GIS brings together more than 500 insurance and financial services company executives, international regulators, government representatives, entrepreneurs and startup tech firms. The theme of this year's conference is "Thriving in a Changing World". In addition to the Global Panel, highlights will include a CEO panel, a Commissioner Panel, and an InsurTech Founder panel.
Mr Huff said: "The GIS provides an ideal platform for senior, international re/insurance industry and supervisory leaders to engage in discussion, collaboration and thought leadership around multiple insurance industry issues with a global perspective. It's important that Bermuda's leading re/insurers, as leaders in climate risk and natural catastrophe protection, as well as complex and specialty risks such as cyber and financial protection, have a voice on the world stage. I look forward to representing Bermuda's vibrant market at the Symposium."
Full details of the conference are available at the website, globalinsurancesymposium.com.
Read More About
Category: All