Footballers in Premier Division were in action this weekend, with the PHC Zebras claiming the Premier division title, while the Devonshire Cougars, X-Roads, and North Village Rams all won their games.
PHC Zebras 9 – Boulevard Blazers 0
The PHC Zebras defeated the Boulevard blazers 9 – 0 at the PHC Stadium to claim their 12th First/Premier Division title.
Paul Simons, scored a hat-trick, Marco Warren added two goals, while Jenico Sealey, Jaylon Bather, Keishon Bean, and an own goal accounted for the other goals.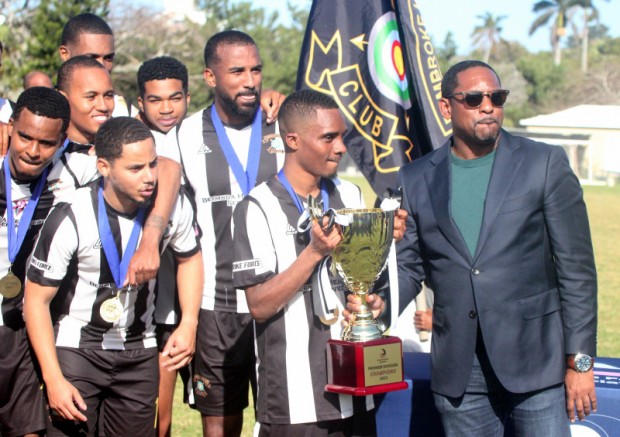 Dandy Town Hornets 1 Hamilton Parish 1
At the BAA Field, the Dandy Town Hornets and Hamilton Parish played to a 1 – 1 draw.
Cecoy Robinson gave the Dandy Town Hornets the lead in the 19th minute, but Macquille Walker equalized for Hamilton Parish in the 35th minute.
Devonshire Cougars 4 Robin Hood 1
At the Devonshire Recreation Club, the Devonshire Cougars defeated Robin Hood 4 – 1.
The Devonshire Cougars got two goals from Domico Coddington, and Chris Caisey, while Barrington Tyson-Gooden scored the lone goal for Robin Hood.
Somerset Trojans 1 X-Roads 3
At the Somerset Cricket Club, X-Roads defeat the Somerset Trojans 3 – 1.
X-Roads would get two goals from Donavan Thompson in the first half, while Kahmori Brangman added a second half goal, while Justin Corday scored the lone goal for the Somerset Trojans in the second half.
St. George's Colts 1 North Village Rams 3
At the Wellington Oval, the North Village defeated the St George's Colts 3 – 1.
The North Village Rams got goals from Pierre Smith, Tahmi Williams, and an own goal, while Tyrell Burgess scored the lone goal for the St. George's Colts.

Read More About