The City of Hamilton is inviting the public to "attend the formal unveiling ceremony for the "BERMUDA" Marquee Sign on Wednesday, May 24th at 8:00pm, to coincide with the date that has historically been celebrated as Bermuda Day."
A spokesperson said, "Giveaways at the unveiling include Ashley's Lemonade, compliments of the City, and Duch Pops sponsored by Paradise Mobile. Paradise Mobile, a new telecoms firm to the island, has partnered with the City to create a dynamic augmented reality component for the sign, using app-less web based technology, that can be experienced with a simple QR code scan with smart phones . The public are encouraged to attend the unveiling, next to the Bermuda Tourism Visitor Centre on Front Street, and be some of the first to snap a photo op of Hamilton's newest, iconic landmark.
"The sign stands approximately 7.5ft high, 3ft deep and 40ft wide and features artistic elements which were designed to showcase Bermudian culture, heritage and traditions.
"The public may recall that the 'BERMUDA' Marquee Sign Design Contest was launched in March 2021 and invited local artists, community groups and individuals to participate in an island-wide contest to conceptualize a design for a freestanding 'BERMUDA' marquee sign. Designers were asked to tie in the heritage of the City of Hamilton and include a nod to Bermuda culture to foster a sense of community pride.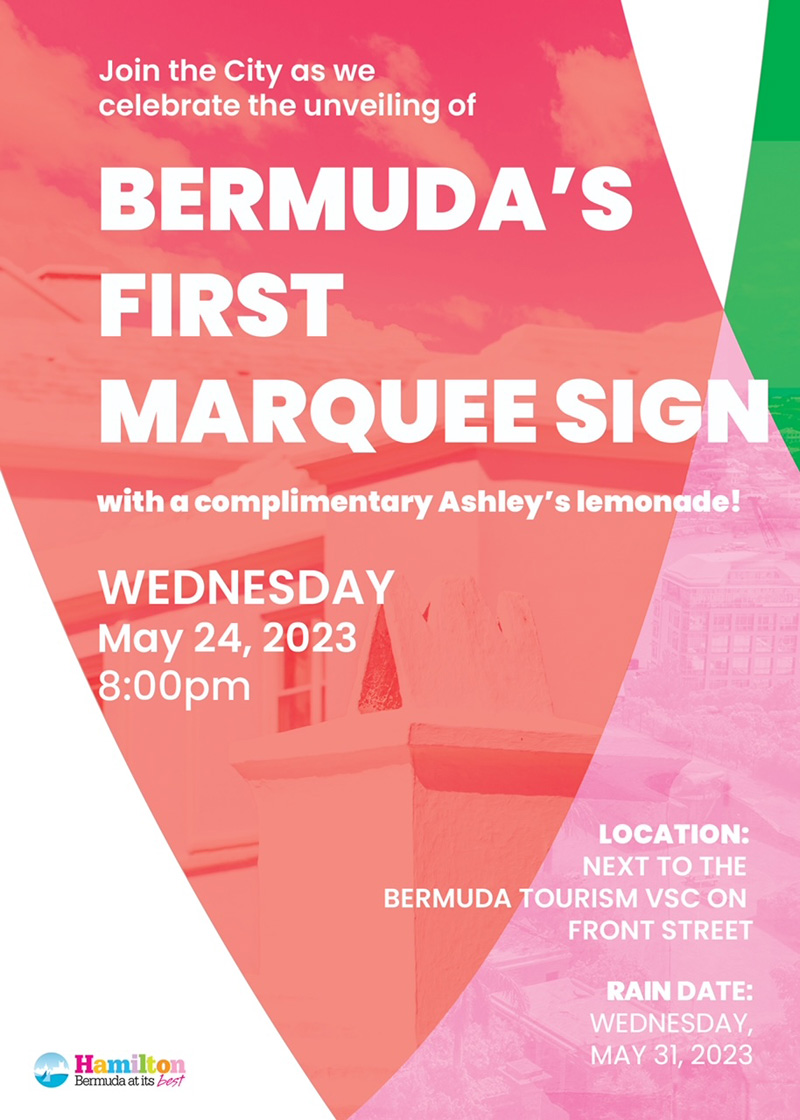 "The winner of that competition [and a $3000 prize] was Bermudian Keeon Minors of Lead x Design, a digital marketing agency. Mr. Minor's design was chosen from over 60 entries and tastefully features a variety of colours and picturesque visions of Bermudian landscapes designed in celebration of the island's flora, fauna, and architecture.
"All design submissions were reviewed by the 'BERMUDA' Marquee Sign Selection Committee, which consisted of representatives from the City of Hamilton as well as industry experts including the Director of the Bermuda National Gallery Peter Lapsley, the Gallery Director of the Bermuda Society of Arts Nzingha Ming, former member of the City Council and Chartered Architect, Henry Ming, City Engineer Patrick Cooper, City CEO Dwayne Caines and City Director of Marketing and Communications Jessica Astwood.
"The sign was approved by the Department of Planning in 2022 and was fabricated in Orlando, Florida. The City worked closely with the manufacturers to finalize all aspects of the sign."
The City's Director of Marketing & Communications Jessica Astwood said, "The City understands that artistic and cultural infrastructure are essential in creating vibrancy for our city, which is a part of our vision. The idea of this sign was conceptualized back in 2019 with the intention to enhance the cultural ecosystem in the City. The City of Hamilton is more than just a place of commerce and consumption, and by adding varied art pieces to our VIVID: Public Art Initiative, we aim to facilitate accessible engagement with our art and culture by both visitors and residents. Keeon's design was chosen to help us achieve exactly that."
"We've explored various locations for the installation and believe that this waterfront space will create transformative placemaking in the City of Hamilton. The scale of the sign is meant to be politely disruptive, capturing pedestrian, commuter and visitor attention."
The spokesperson said, "The 'BERMUDA' Marquee Sign Design Installation is a part of the VIVID: Public Art Initiative which aims to enliven various areas in the City of Hamilton by facilitating new public art installations that connect visitors and the local community to Bermuda's art and culture."

Read More About
Category: All, Entertainment, News