Ludovic Burns Tuki of Easter Island [Rapa Nui] will present during the Bermuda Underwater Exploration Institute's fourth episode of the Island SOS series on Sunday June 4th at 3:00 PM.
A spokesperson said, "Running monthly, the 'Island SOS' series aims to highlight innovative sustainable ocean strategies from islands around the world. Each 'Island SOS' talk focuses on a singular island nation and topic, exploring ideas from zero waste management to sustainable tourism.
"Ludovic Burns is the Executive Director of a community-led organisation called 'Te Mau o te Vaikava' which aims to prioritise the conservation of Rapa Nui's local Marine Protected Area.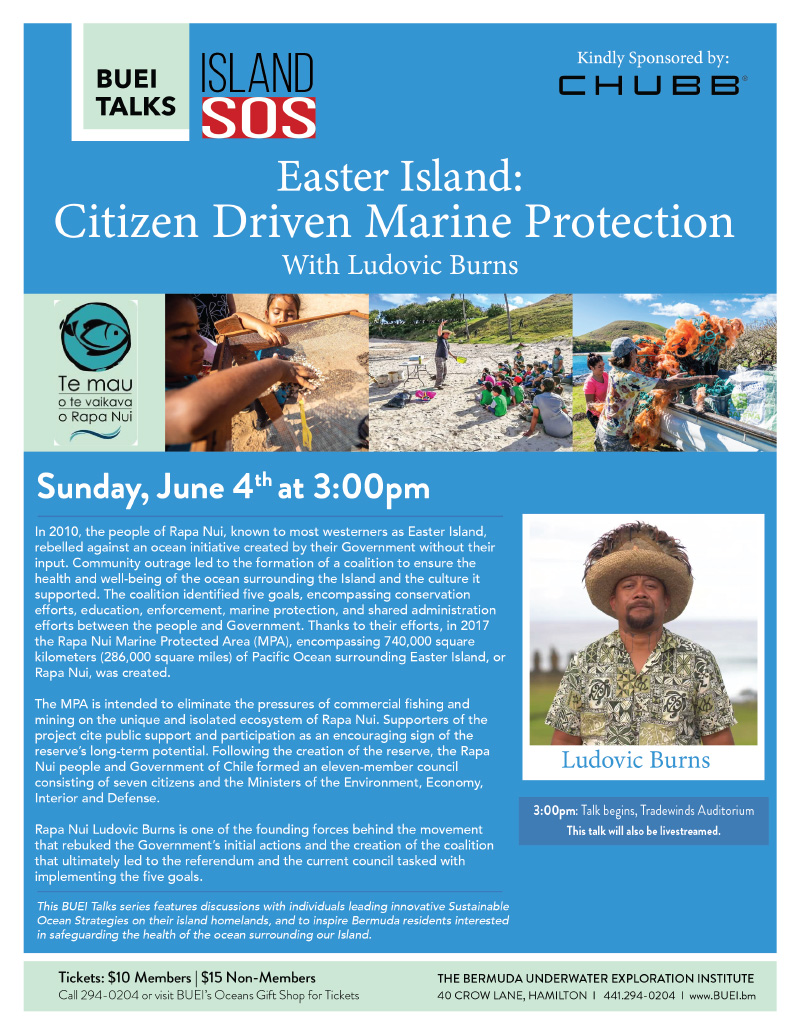 "During his talk on 'Citizen Driven Marine Protection,' Ludovic will share how the people of Rapa Nui rebelled against an oceanic initiative created by their government without their input. Community outrage led to the formation of a coalition to ensure the health and well-being of the ocean surrounding the Island and the culture it supported.
"The coalition identified five goals, encompassing conservation efforts, education, enforcement, marine protection, and shared administration efforts between the people and government. Thanks to their efforts, the Rapa Nui Marine Protected Area [MPA], encompassing 740,000 square kilometres [286,000 square miles] of Pacific Ocean surrounding Easter Island, or Rapa Nui, was created.
"Ludovic is one of the founding forces behind the movement that rebuked the government's initial actions in 2010. He has been the Executive Director of the community organization 'Te Mau o te Vaikava o Rapa Nui' since 2016 and is a part of the council tasked with implementing the five goals of the coalition. Further to being Executive Director, he has implemented eco-tourism and water sports projects on the island and was also Executive Secretary of the Rapa Nui Public-Private Council and the Executive Director of the Mesa del Mar.
"Located in South America, Easter Island [Rapa Nui] is a remote island to the west of Chile. Similarly, to Bermuda, Rapa Nui is a sub-tropical volcanic island surrounded by ocean, in this case the Pacific Ocean. The 83 square miles of Easter Island is home to just under 8,000 people, compared to Bermuda's 21 square miles and population of nearly 64,000. Rapa Nui is also known for its numerous monumental Moai statues, created between the 13th and 16th centuries."
A BUEI Spokesperson notes that, "'The Island SOS' series is intended to inspire members of our community to realise their potential in protecting our local oceanic environment. Rapa Nui is a perfect example of how community action and organising can have a significant impact on the environment of an island, conserving and preserving marine environments for generations to come."
The spokesperson said, "Each 'Island SOS' takes place live for an in-person audience at BUEI's Tradewinds Auditorium with our overseas guests presenting via video link.
"Tickets for BUEI Talks: 'Island SOS' are $10 for members and $15 for non-members. Students with a valid ID are free. To become a member, head to our website at www.buei.bm and click on Join and Support. Sign up as a BUEI Member today and enjoy this lecture for free! Tickets can be purchased on the events page of BUEI's website or by phoning our Oceans Gift Shop on 294-0204.
"BUEI Talks: Island SOS is made possible by the generosity of Chubb, the exclusive sponsor for the series."

Read More About
Category: All, Environment