The St. David's Islanders and Native Community will be hosting a Pow Wow on June 10th and 11th at the St. David's County Cricket Club.
A spokesperson said, "St. David's Islanders And Native Community is pleased to announce the dates of their Bi-Annual Bermuda Pow Wow 2023, June 10 & 11 at Lords, St. David's County Cricket Club. This will be the first time we have gathered in the circle since 2018!
"The Committee has been making its preparations for the Bermuda Pow Wow 2023 since the beginning of the year. We are looking forward to reuniting with our east coast cousins who are just as eager to reconnect with us.
"A major component of the Pow Wow will be the Libation Ceremony [held the first day], where everyone has an opportunity to honor their ancestors."
"Since we cancelled the Pow Wow in 2020, there has been much loss on both sides of the Atlantic. This will give us all an opportunity to honor those who have contributed greatly to our Committee, locally and internationally," states Chairperson Terlena Murphy.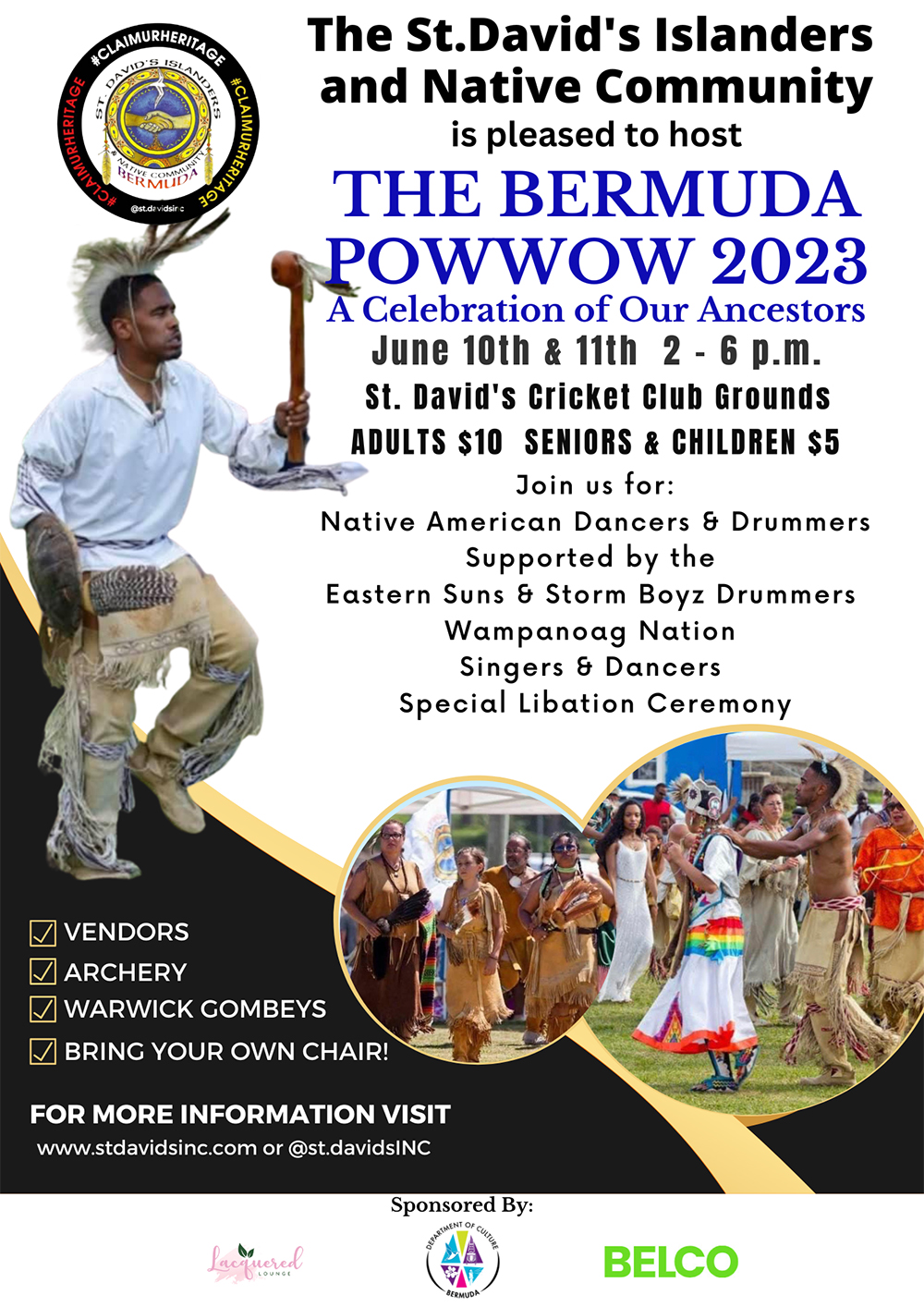 "This year, we will be honoring the lives of Everett 'Tall Oak' and Patricia Weeden and Chief Vernon 'Silent Drum' Lopez of the Wampanoag Mashpee tribe [All were regular attendees and contributors of the Bermuda Pow Wow] who have passed away. "Their families and loved ones will be traveling to Bermuda to honor them with us."
"The Committee will also be honoring Mrs. Patricia Stines-Raynor, Blue Blanket, our former Secretary, Mrs. Ianthia Stowe and Mrs. Theresa Simpson, supportive Committee members also have passed. "All were beautiful women whom each served our Committee unselfishly."
"The Pow Wow not only reconnects us to our culture, but it also serves a way to cleanse and bring healing. It is our hope that people will come and learn something about us, and themselves as we give thanks to those who came before us."
"This year's Pow Wow will be supported by the Warwick Gombeys who have attended many Pow Wows overseas and recently performed at Jacob's Pillow, in Becket, MA. The Warwick Gombeys are sponsoring a drum, the Storm Boyz and we will also have the Eastern Suns Drummers.
"Additionally, the Wampanoag Singers and Dancers, representing the communities of Aquinnah, Mashpee and Herring Pond will be in attendance. Also, for the first time, there will be an archery demonstration from Gold Point Archery.
"The two-day event comprises of an atmosphere of drumming, dancing, and singing around the circle with various vendors, archery, and a little St. David's flavor of delicious fish chowder [made by Mr. Rickilee Pitcher] being cooked over an open fire pit. Please save the dates of June 10 & 11. We hope you will come out to enjoy this cultural experience!"
Read More About
Category: All, Entertainment, News