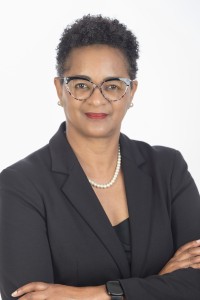 The Office of the Privacy Commissioner for Bermuda [PrivCom] announced the appointment of Angie Farquharson as the new Deputy Privacy Commissioner.
A spokesperson said, "Ms. Farquharson brings a wealth of experience and expertise in the public service and data rights, notably having previously advised PrivCom as the Non-Ministry Comptroller and served on secondment as the Deputy Information Commissioner.
"As the Deputy Privacy Commissioner, Ms. Farquharson will strengthen the office's capabilities in safeguarding the privacy rights of Bermuda's citizens through the office's privacy initiatives, investigations, and guidance to both public and private entities.
"She will work closely with Privacy Commissioner Alexander White and the entire PrivCom team to ensure that privacy rights are protected and that individuals have control over their personal information in the digital age."
Commissioner White was enthusiastic about Ms. Farquharson's appointment, stating, "We are delighted to welcome Angie Farquharson to our team. Her extensive knowledge and expertise will enhance our ability to safeguard privacy rights and continue to meet our responsibilities as a public office. She has long supported our office in her previous capacity, and I look forward to working together in this new role to serve the people of Bermuda and promote responsible data practices."
Ms. Farquharson is eager to begin her new role, stating, "I am honored to join the Office of the Privacy Commissioner for Bermuda and contribute to the important mission of protecting privacy rights. I believe that privacy is an inherent human right and is an asset to maintaining individual dignity and respect. Together with Commissioner White and our dedicated team, we will strive to uphold the highest standards of privacy in Bermuda."
The spokesperson said, "The Office of the Privacy Commissioner for Bermuda extends its warmest welcome to Deputy Privacy Commissioner Angie Farquharson."
Read More About