Deloitte announced that the 2023 Deloitte Scholarship recipient is Iannah Caines, with the scholarship award offering up to $30,000 per year for a period of either two or three years.
A spokesperson said, "The annual scholarship is awarded to a Bermudian, BOTC, or PRC Holder pursuing an undergraduate degree in all degree disciplines with particular focus in business, accounting, financial services, and actuarial science and is interested in joining our audit, advisory or actuarial teams after graduation."
Ms Caines said, "I am extremely humbled to have been selected as the 2023 Deloitte Scholarship recipient in recognition of my potential and ongoing commitment to my studies. I eagerly accept this excellent opportunity to broaden my knowledge of accountancy and related services."
2023 Deloitte Scholarship recipient Iannah Caines [left] receives a plaque from Senior Manager and Scholarship Committee Member Sierra Cabral [right].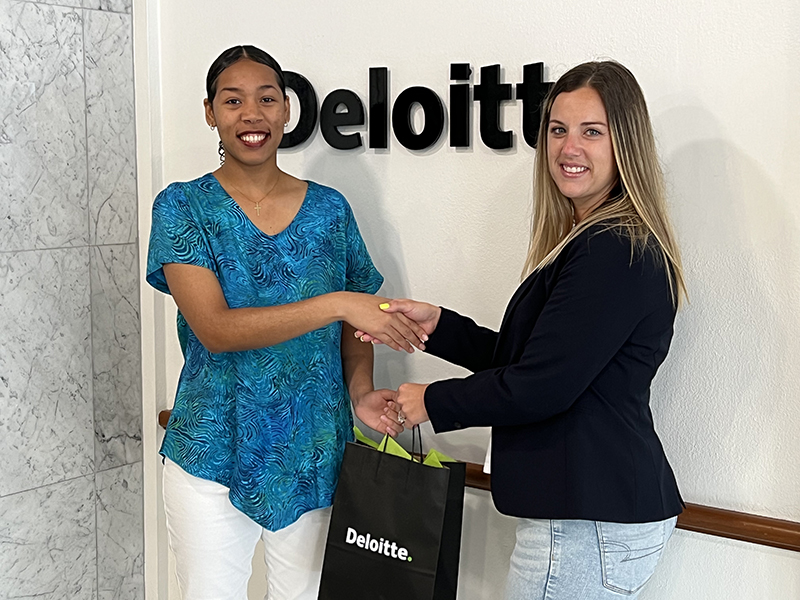 The spokesperson said, "The Deloitte Scholarship Committee chose Iannah after interviewing a fantastic set of applicants because of her exceptional academic accomplishments, commitment to her future studies, and desire to become an accountant.
"Iannah will graduate from Bermuda College this May with a major in Associates of Arts, Business Administration. Iannah will begin her first year of study aimed at a BSc in Accounting and Finance at the University of Exeter in the UK, this September. With the support of Deloitte Bermuda, Iannah will pursue her ACCA designation as a post-grad.
"As the scholarship recipient, Iannah will also join Deloitte as a summer intern in 2023 where she will take part in the DEEP [Deloitte Exclusive Experience Program] Program as an Audit & Assurance intern. During the 10-week summer program, she will gain first-hand experience in accounting and advisory, learn from like-minded professionals, and contribute to project deliverables for Deloitte Bermuda clients.
"Deloitte offers a variety of career options for students, including The Deloitte Internship Program [DEEP], the Deloitte Scholarship, and the Deloitte Graduate Program. To discover more, visit www.deloitte.com/cbc/students for more information about Deloitte's student programs. We encourage all university-aged students pursuing an undergraduate degree in all degree disciplines with a particular focus on business, accounting, financial services, and actuarial science to look out for more information on how to register for our 2023 Summer Student Networking Event on Monday, July 17 at www.deloitte.com/cbc/students."
Sierra Cabral, Senior Manager, commented, "Congratulations to our 2023 Deloitte scholarship awardee Iannah. She demonstrated academic strength, leadership, and involvement in extracurricular activities with an overall commitment to her educational journey through a successful interview. The annual Deloitte scholarship not only helps students financially but is also the first step in developing a career within their chosen field, providing hands-on learning and mentoring. We applaud her achievements to date and wish her continued success as she pursues her dreams."

Read More About