Amarriah Vaughns and her grandmother Andrea McKey competed at the US Capitol Classic martial arts event in Maryland, with the dynamic duo making an excellent showing.
A spokesperson said, "In an extraordinary display of skill and determination, the dynamic duo from Tabata-Ha Dojo left a lasting impression at the prestigious US Capitol Classic martial arts event held in National Harbour, Maryland on August 4 and August 5. Amarriah Vaughns, a remarkable young talent, and her grandmother and coach, Andrea McKey, showcased the true essence of Shotokan karate, leaving the audience in awe.
"Amarriah Vaughns, competing in the 10-11 age group traditional Kata, exhibited unwavering focus and dedication, securing an impressive fifth place amidst fierce competition. Her poised and elegant performance truly captured the essence of Shotokan karate and earned her well-deserved recognition.
"Not to be outdone, Andrea McKey, a seasoned karateka and a driving force behind Tabata-Ha Dojo, competed in the over 50s traditional Kata, leaving a lasting impression with a remarkable fourth place finish. In the weapons category, Andrea's exceptional skills dazzled the crowd, securing an outstanding 2nd place – a true testament to her dedication and perseverance.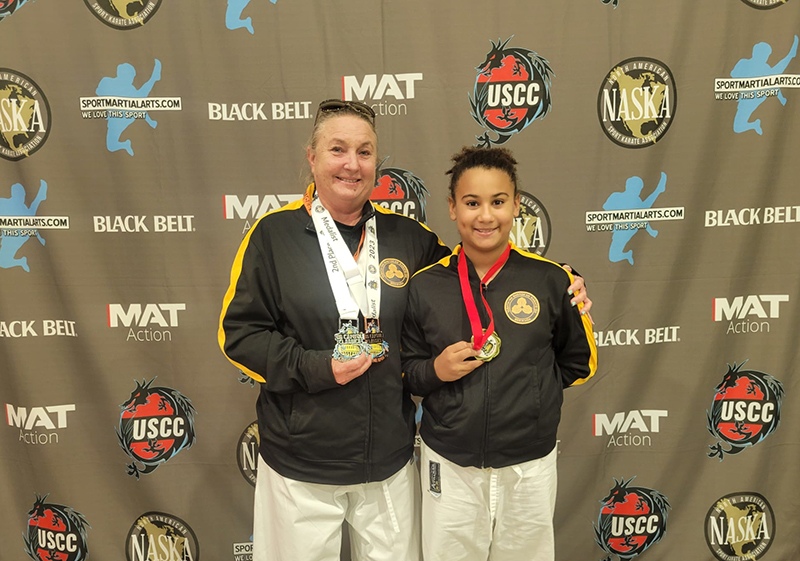 "For Amarriah and her grandmother, the US Capitol Classic was more than just a competition; it was a profound bonding experience. Together, they embraced every moment, cherishing the opportunity to showcase the art of Shotokan karate as representatives of Tabata-Ha Dojo. Their passion for the martial art and their deep connection as coach and athlete shone brightly throughout the event.
"Amarriah Vaughns' recent accolade as a recipient of a Shotocup Directors Award further exemplifies her commitment and talent within the karate community. This young star's journey is a testament to the nurturing and empowering environment fostered by Tabata-Ha Dojo.
"In reflection, both Amarriah and Andrea describe the US Capitol Classic as an unforgettable experience—one that strengthens their bond and deepens their love for Shotokan karate. The Tabata-Ha Dojo is incredibly proud of their achievements and the positive representation they brought to the art of karate.
"As a result of their exceptional performances, Amarriah Vaughns and Andrea McKey are now cherished inspirations in the Bermuda karate community. Their success exemplifies the spirit of Shotokan karate, showcasing the values of discipline, determination, and dedication that define Tabata-Ha Dojo."

Read More About