[Written by Stephen Wright]
Aaliyah Nolan hopes to continue her scoring form when she returns to international duty in the Bermuda women's national team's Concacaf W Gold Cup qualifiers.
Nolan has made a blistering start to the season, scoring a hat-trick on her debut for Bradford City Women in a 5-2 win over Wakefield AFC Women and said she is brimming with confidence before Bermuda's opening qualifier at home to the Dominican Republic on Friday [September 22].
Due to injury, the forward missed the NatWest International Island Games in Guernsey last summer, where Bermuda won the gold medal, but could fill one of the attacking roles, especially in the absence of LeiLanni Nesbeth, who is recovering from a hip issue.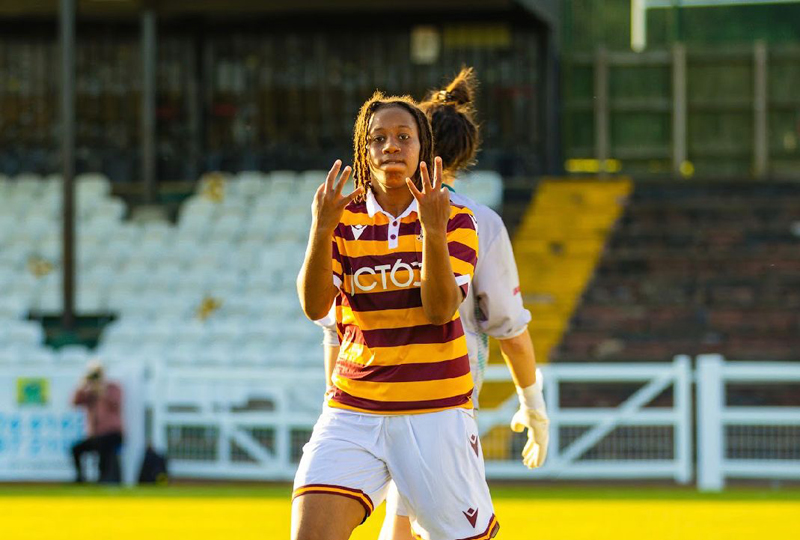 "I've only played one league match [for Bradford City Women because of national team commitments], but I scored a hat-trick and had an assist," Nolan told Bernews.
"It's given me plenty of confidence because scoring goals is what I do.
"I'll look to go into these qualifiers, score some goals, and make my country proud."
Bermuda must finish top of group C in League B to advance to the play-off round as they bid to reach the inaugural Concacaf W Gold Cup.
Nolan said she is optimistic about Bermuda's chances of achieving their qualifying objective, hailing the squad's work ethic and selflessness, but admits they must make a positive start to the campaign against the Dominican Republic.
Four days later, they face Saint Vincent and Grenadines away.
"It would be a massive boost for the women's game on the island if we can reach the Gold Cup," said Nolan, who previously played for Leeds United Women.
"I'm very confident about our chances. We have some quality players. Everyone gels together, and we don't look at ourselves as individuals. We play as one for Bermuda.
"Winning our first qualifier against the Dominican Republic would be huge. The nerves will calm down, and everything will flow once we get that first win."
Although Nolan is still only 26, she is among the most experienced members of coach Naquita Robinson's squad, having helped Bermuda claim gold at the Island Games on home turf in 2013.
Since then, she has witnessed the women's national team programme grow tremendously and believes the current group is the most gifted the island has produced.
"I've been around for a long time and was just 16 at the Island Games when we won [in 2013]," Nolan added.
"I like to help the younger players, give them pointers, and show them how everything works.
"It doesn't change the way I play, though. I don't see myself as one of the older ones. I'm just a player who is still developing and learning.
"There's been massive growth since I started playing for Bermuda. We have so many talented players to pick from now. We never had that before."

Read More About