[Updated] Nautical, an art show onboard the Spirit of Bermuda, is set to take place on Friday [Sept 8] at Albouy's Point in Hamilton.
A spokesperson said, "It looks like we're going to have a beautiful evening on September 8 for a floating art show.
"If you are looking for beautiful pieces of art, then 'Nautical,' opening this Friday, September 8th on board the Spirit of Bermuda, is the show for you. We have paintings in all sizes and media that will be for sale. Climb onboard our floating gallery for this experience.
"This is a fundraising show to raise awareness for art and sail. Proceeds from sales of 'Nautical' will go towards the Bermuda Arts Centre and the Bermuda Sloop Foundation, both of course being two worthy Bermuda charities.
"You'll have to climb onboard the ship for this show. The Spirit is sailing to Albouy's Point in Hamilton and the show will be set up right on the decks. In addition to wandering around and viewing the show, you will be given the opportunity to talk to the crew members of The Spirit and also a chance to see below deck and into the wonderful world of what it takes to sail this beautiful tall ship.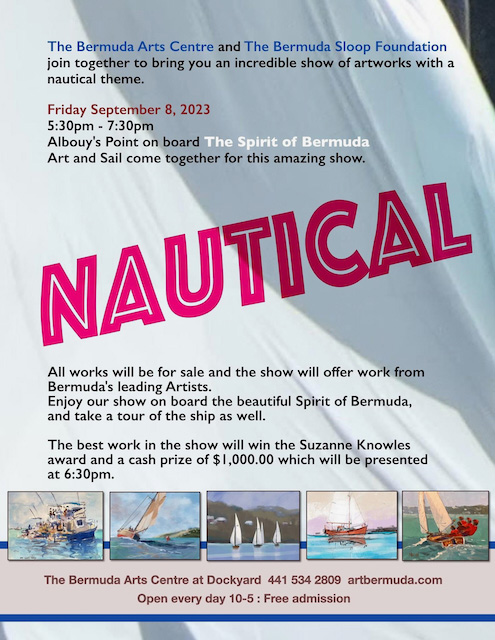 "This is definitely a show not to be missed. Artists have chosen one piece of art to be considered for the Suzanne Knowles Nautical Award. The prize to the winner is $1,000 and we commend every artist that has entered. The work is stunning.
"The winner will be announced at 6:30pm at the opening. The prize will be presented by Sue's two sons; Bill and Ted and we are honoured that they are flying from Boston to be a part of this special event.
"The Bermuda Plein Air Group will be in attendance to capture the magic of the evening from around Albouy's Point, and you may be enticed to purchase a fresh piece of art right off the easel.
"Work can be seen and purchased online at artbermuda.com from Saturday, September 9 and will be on the walls at the Bermuda Arts Centre until October 13. All pieces that are purchased at the opening will be taken at the time of purchase, so if you wish to see the show in its entirety, we suggest you come out to the show on Friday night.
"So, all onboard on Friday, September 8, 2023.
"The show is open from 5:30pm to 7:30pm.
"Location: on board the Spirit of Bermuda, Albouy's Point, Hamilton.
"The Bermuda Arts Centre is open every day from 10am to 4pm. For more information, email: bermudaartscentre@gmail.com or visit artbermuda.com."
Update Sept 8, 1:10pm: The show has been postponed to Sunday [Sept 10] due to weather-related concerns.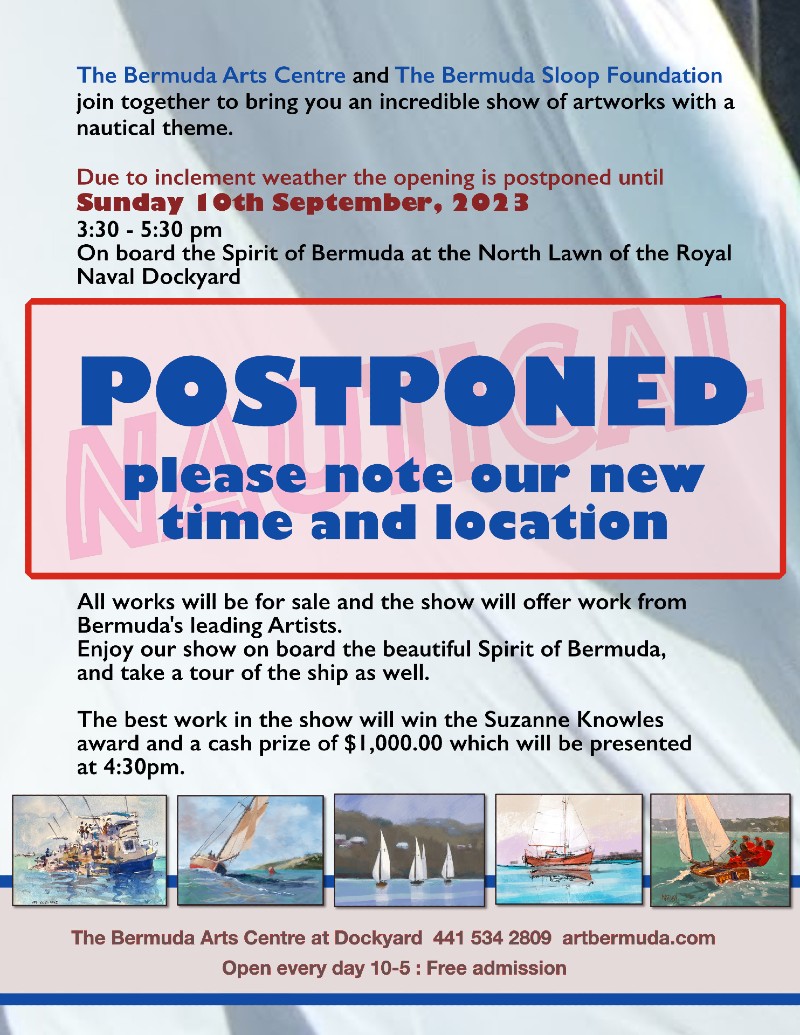 Read More About
Category: All, Entertainment, News