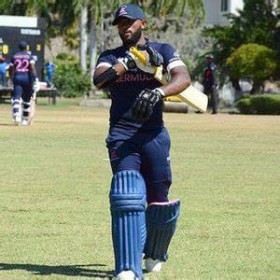 [Written by Stephen Wright]
Tre Manders has challenged the Bermuda national cricket team's most experienced players to step up and lead them to glory in the ICC Men's T20 World Cup Americas Qualifier.
Bermuda will compete in a double round-robin format against Canada, Cayman Islands and Panama over six days, starting on Saturday [September 30], to claim a spot in the Men's T20 World Cup next summer – the biggest yet, featuring 20 nations.
Manders, who helped Bermuda win the sub-regional qualifier in March, believes the island's "big players" such as captain Delray Rawlins, Kamau Leverock, and himself, must be at their best to win the tournament.
Bermuda face Canada, arguably the tournament favourites, in their opening game at White Hill Field on Saturday.
"It's a huge tournament for us – the winner goes straight to the World Cup," Manders told Bernews.
"We need a good start [against Canada], and our big players must show up. Most of us have been doing well in the [domestic] league.
"I remember Delray saying that the big players had to dominate locally. We now must step up to the international stage and get across the line.
"Our top batters, Delray, Terryn [Fray], Dominic [Sabir], Kamau and myself, are in good nick."
The 28-year-old believes Bermuda must make the most of their home advantage as they endeavour to return to the biggest stage in men's T20 cricket after their historic appearance at the World Cup [One Day International] in 2007.
"I encourage all Bermudians to come out and support us, even if they don't like cricket," the Bailey's Bay player said.
"Hopefully, we can make our opponents feel uncomfortable and put them under pressure. We need our supporters to be our twelfth man."
He added: "I was pretty young in 2007, but I still remember how big it was for Bermuda to be at the World Cup.
"The opportunity to step into their shoes gives me goosebumps. We need to keep a level head and stick to the plan.
"Qualifying could change so much in Bermudian cricket. It could be a huge moment."
Bermuda warmed up for the tournament by finishing runners-up in the inaugural Bermuda Premier League, losing to Barbados by seven wickets in the final.
Manders, who top scored with 38, believes the competition served its purpose in preparing Bermuda for high-level competition.
"I have to commend the Bermuda Cricket Board for putting that competition together," he added.
"Barbados were tough, probably comparable to Canada, and those matches showed us where we need to improve.
"It was a preview of what's to come, and the whole team benefitted from that experience. Regular games are so important.
"I got my head down and made some runs, which has boosted my confidence. I'm in pretty good nick."
The Men's T20 World Cup will be held in the Caribbean and the United States from June 4 to 30.

Read More About