The Bermuda Underwater Exploration Institute [BUEI] will be hosting its Annual Youth Climate Summit, featuring renowned experts and young climate activists addressing global and local climate issues.
A spokesperson said, "The Bermuda Underwater Exploration Institute's [BUEI] highly anticipated Annual Youth Climate Summit is back, featuring a dynamic lineup of distinguished subject matter experts and young climate activists who are driving change globally and locally.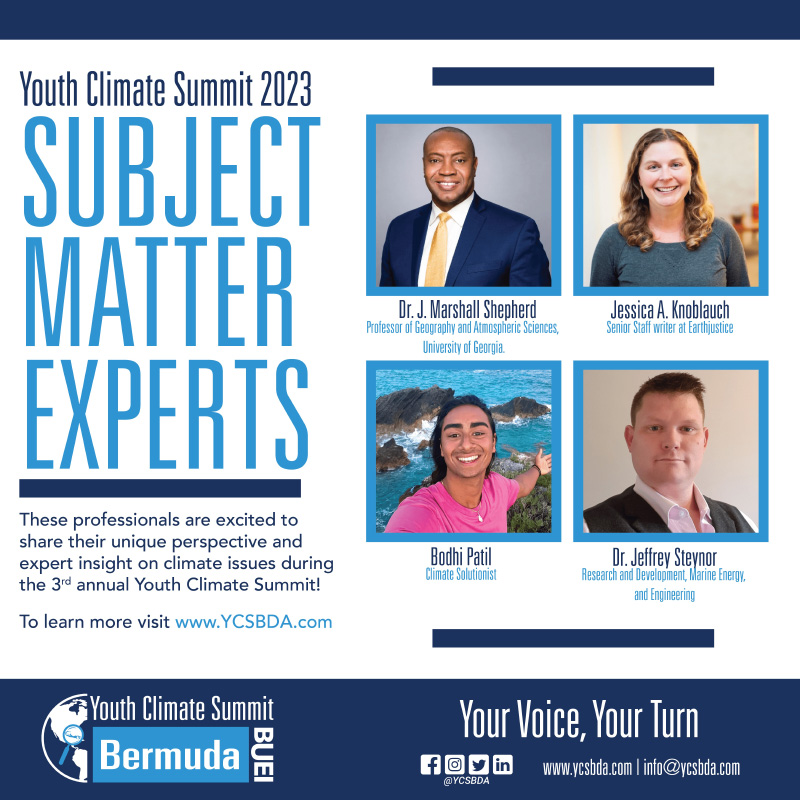 Key Presenters
"This year's summit showcases an impressive roster of presenters, both virtually and in person:
Dr J. Marshall Shepard: Professor of Geography and Atmospheric Sciences at the University of Georgia and host of The Weather Channel's Award-Winning Sunday talk show Weather Geeks [Virtual Session]
Jessica A. Knoblauch: Award-winning Senior Staff writer at Earthjustice, a nonprofit environmental law organisation [Virtual Session]
Bodhi Patil: Climate Solutionist, Ocean Activist, and Founder of Inner Light [Virtual Session and In-person]
Dr Jeffrey Steynor: Ocean Energy expert, Principal Engineer BELCO's Project Management Office [In-person]
"BUEI's 2023 Youth Climate Summit brings together the best of both worlds – expert insights and the inspiring stories of youth activists making a real difference. Attendees can look forward to engaging with:
Ela Gökçiğdem, Turkish/American Social Entrepreneur and Climate Activist - Sustainable Ocean Alliances Youth Policy Advisory Council [Virtual Session and In-person]
Jevanic Henry, St Lucia – United Nations SG Youth Climate Advisor [Virtual Session and In-person]
Mikaela Loach, UK Climate Justice Activist - Author of 'Not That Radical: Climate Action To Transform Our World', Medical Student and Podcast Co-Host [Virtual Session]
Demetri Sedita, USA, Founder Green Gasparilla - An environmental protection initiative targeting plastic waste from Florida's annual Gasparilla Flotilla parade [Virtual Session]
Sharona Shnayder, Nigerian/Israel Environmental Activist - National Geographic Young Explorer, Founder of Tuesdays for Trash, SailGP Impact League Judge [Virtual Session]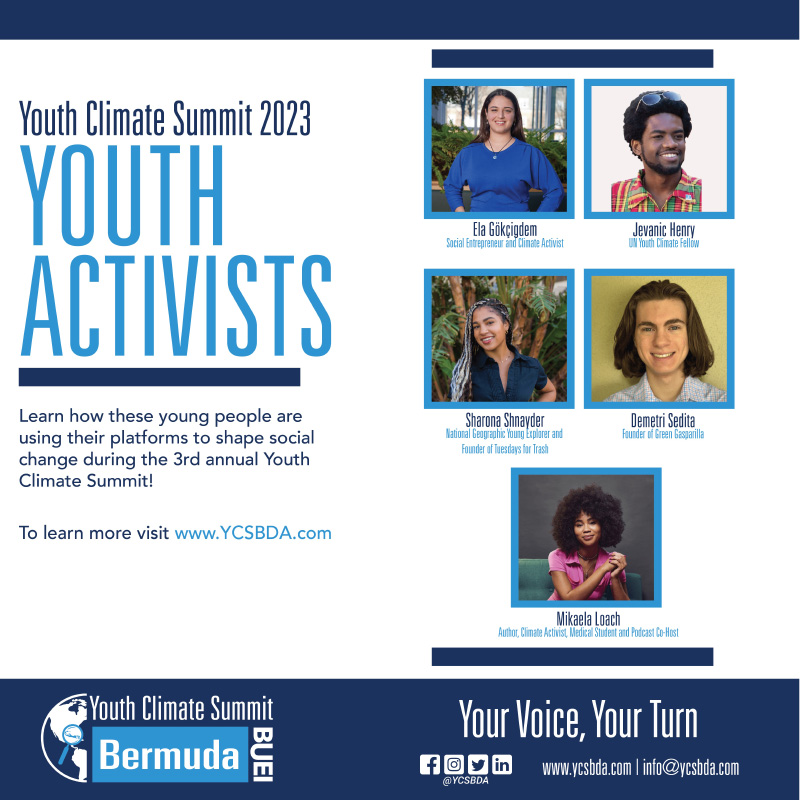 Why It Matters
"The climate crisis is a global challenge that demands immediate and concerted action. The Annual Youth Climate Summit provides a platform where young leaders and experts can collaborate, share ideas, and accelerate progress toward a sustainable future.
How to Attend
"Don't miss this opportunity to be part of the change. Register now at www.YCSBda.com to secure your spot at the Annual Youth Climate Summit."

Read More About
Category: All, Environment