The Bermuda Underwater Exploration Institute [BUEI] will be hosting the 3rd Annual Youth Climate Summit from November 10th to 18th.
A spokesperson said, "The Youth Climate Summit [YCS], a weeklong event for students ages 13-22, engages and educates young people on global climate issues and is the foundation for a year of youth-led activities focused on local climate matters. Throughout the week, students will connect with local and global climate and environmental experts, leaders, and young activists in areas concerning Conservation, Sustainability, and Climate Justice."
"We are again proud to be supporting Bermuda's young people and future leaders through the Youth Climate Summit and to provide a space where students can learn about incoming threats to the environment, meet with experts, and work together to find solutions. The summit is a space where young people can be heard, their voices amplified, and find hope," said BUEI CEO Karla Lacey.
The spokesperson said, "Founding Partners, AXA XL and HSBC Bermuda, have continued to support the vision of the Youth Climate Summit since its introduction in 2021. In the past year, these valued partners have supported beyond financial contributions, offering knowledge, expertise, connections, credibility, and contacts to support young people in their pursuit of transformative solutions to large-scale problems.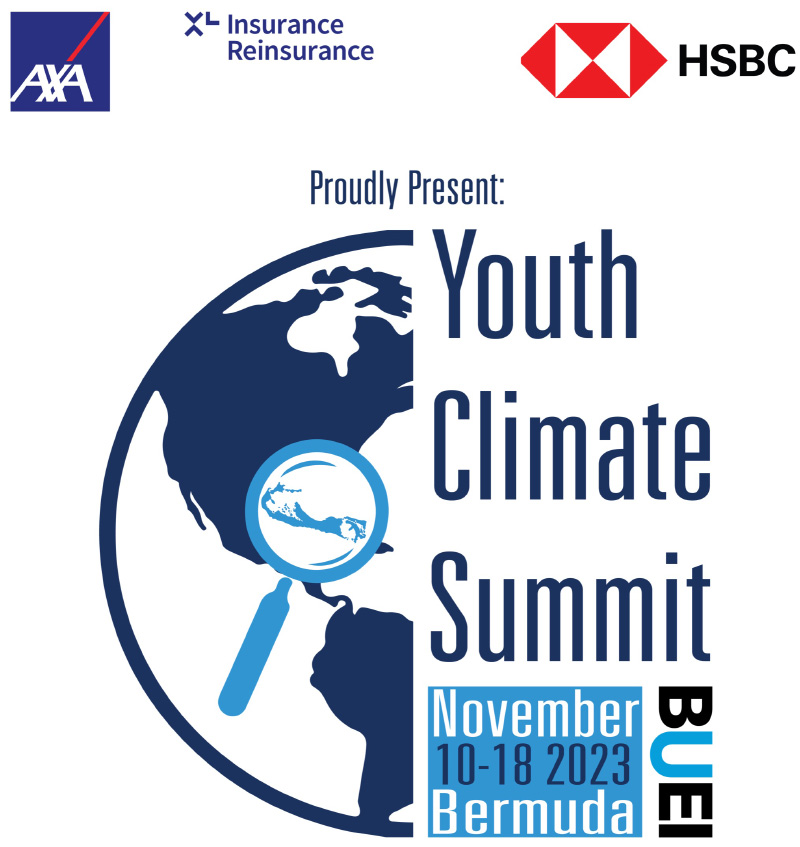 "HSBC's global 'Climate Ambition' strategy includes progression towards a Global Net Zero Economy by the year 2030. Locally, that translates to incorporating greener strategies in its own operations; supporting initiatives that foster community engagement in environmental sustainability projects and supporting customers in their respective climate transition journeys through the provision of green financing solutions."
An HSBC representative commented "Supporting local climate-focused projects is a key priority for HSBC. We believe the Youth Climate Summit is vital to educating and inspiring Bermuda's future leaders and young community to be more climate-conscious citizens into adulthood and beyond."
The spokesperson said, "As one of the world's leading re/insurance companies, AXA XL has several robust climate-based initiatives underway, ranging from commitments around underwriting and investment to managing the company's own emissions associated with its operations."
Andy MacFarlane, AXA XL's Head of Climate, said: "The climate is changing for all of us, but it will be the future generations who will be impacted the most if we do not all take action now. We want to ensure that Bermuda's young people are not only prepared for the challenges ahead but also know that they have a voice when it comes to raising awareness and generating action. We are delighted to continue to partner with BUEI and the Youth Climate Summit to drive the progress made over the last 2 years and into the future."
The spokesperson said, "As hurricanes become more frequent and devastating year after year, and our oceans continue to warm in temperature and affect local wildlife, Bermuda is by no means free from the threats of climate change.
"Our Island's unique ecological and geographical positioning and our experience in fields like that of re/insurance however places us in a position to make a great impact and lead on changing climate initiatives. The Youth Climate Summit is just one of the lasting ways that this change can be achieved."
"This year, we hope to continue to make an impact on our local community and continue to show the world how change can be made effectively with young people at its heart," said Lacey.
The spokesperson said, "In addition to our Founding Partners, the Youth Climate Summitt is supported by returning Visionary Partners Aspen Bermuda, Renaissance Re and Deloitte. Returning Inspire Partners Conduit Re, Chubb Bermuda, and Axis Speciality Limited have been joined by Neuberger Berman among other valued organisations."

Read More About
Category: All, Environment